Mercutio Kingston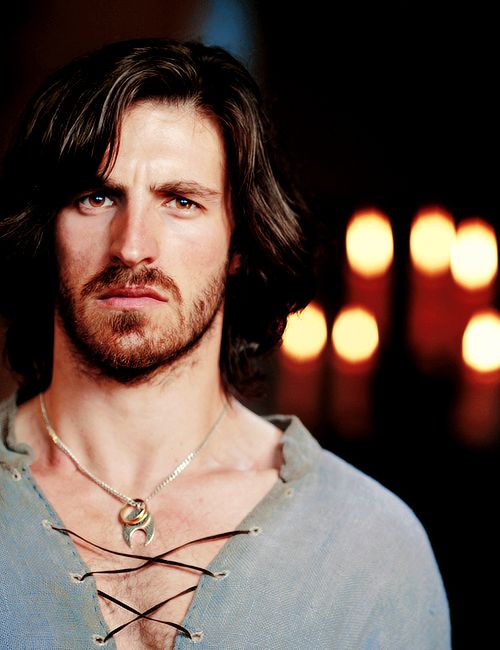 Basic Information
| | |
| --- | --- |
| Level: | |
| Race: | Attuned |
| Nationality: | Outlander |
| Citizenship: | Nomadic |
| Profession | Medic |
| Primary Organisation | |
| Secondary Organisation | |
Character Information
| | | | |
| --- | --- | --- | --- |
| Face Claim: | Eoin Macken | Strength: | 15 /30 |
| Age: | 31 (Deepfrost 279 PC) | Dexterity: | 8 /30 |
| Height: | 6'3" | Endurance: | 12 /30 |
| Weight: | 220 lbs | Luck: | /30 |
| Gender: | Male | Relationship Status: | Single |
| Orientation: | Bisexual | Deity Alignment: | None |
Appearance
There's something of the soldier in Mercutio's build and movement, but one long out of practice in wielding anything but words. Relaxed, a little cocksure, and used to being on the move, he has a strong presence without being threatening. He's broad-shouldered and long of leg, scarred more from rough living than any battle-wounds. His face is scruffy, but almost always smiling, and light brown, almost amber eyes are flanked in laugh lines.
Personality
With all the makings of a good person and a distinct lack of ability to see any of it within himself, Mercutio os the smiling cynic. He moves through the world refusing to take anything seriously, preferring to make himself or others laugh and life's inanities instead of working to better it. He continuously fails to understand that he could have anything of substance to offer.

cynical // Mercutio believes the world is motivated, for the most part by self interest, though he passes no judgement, and often knows himself to be guilty of this himself, it is simply the way of things and wrong to suspect or even hope that thing would change for the better.

affable // He is open in his person and his conversation, and will not shun a conversation for any unjust cause. He is friendly until given a reason not to be, and if that's the case would depart instead of engage.

self-loathing // He has never thought much of himself or his worth, convinced he would be a disappointment if he let anyone rely upon him. Thinks himself flighty, and selfish and generally lacking in good qualities and therefore not deserving of anyone's faith or true praise.

irreverent // Never one to stand on ceremony, Mercutio never takes anyone or anything too seriously. He generally finds pride an amusing thing, knowing it ignores flaws, and having never been raised in religion or other theological philosophies holds nothing particularly sacred.

flirtatious // Flirting is a game for him, but never a malicious or predatory one. He likes to see what is good in others, whether physical of otherwise, and will point it out in colorful ways. He'll flirt with just about anyone, but is careful to pull back if it makes them uncomfortable. For the most part, it makes others smile, and he always likes to see that.

protective // This solitary stallion is careful to keep himself independent, but if he finds cause is ready to step in and help out an underdog. He wants the best for others, especially those he sees good in. He could laugh off a torrent of insults to his own person but insult or threaten a friend or an innocent, and you'll find yourself at the end of his horn.

witty // Humor is his shield, his shroud, and Mercutio is always ready to make a joke out of anything; always better to laugh than to cry. He is a quick thinker, fond of riddles, and takes pleasure in spinning words and phrases to his own and others' amusement.

kind // Though he doesn't see it, there isn't a mean bone in his body. He would never intentionally seek to harm or humiliate and is always willing to work to cheer someone up. He has a soft spot for children (or anything small and sweet) both envious of their innocence and intent on protecting it for as long as possible.

likes // making people smile, kids, overcast days

dislikes // being relied on, fire, bullies
History
He trained as a soldier once, a combat medic in a vast army. At his first taste of battle he tried his best to save his men but a blunder cost most of them their lives. He didn't do much fighting after that and after another series of selfish mistakes his home was lost to him as well. For a long while he was a nomad, solitary and aimless and determined to keep it that way until he stumbled upon a place and a people that started to make him second-guess his self imposed exile. Before he could decide if he could take the risk in allowing himself to be relied upon, a war between Gods ripped the very essence of that world apart and he was cast through one reality after the next, finally landing here. Welcome to Caido
Other
Wolf
Abilities
---
Citizenship Ability
None! How sad!
---
Items
---
Companion
Mercutio's Forum Info
Joined:
07-22-2019
Last Visit:
03-06-2020, 12:34 AM
Total Posts:
10 (0.02 posts per day | 0.01 percent of total posts)
(Find All Posts)
Total Threads:
2 (0 threads per day | 0.05 percent of total threads)
(Find All Threads)
Time Spent Online:
8 Hours, 23 Minutes