Aonghas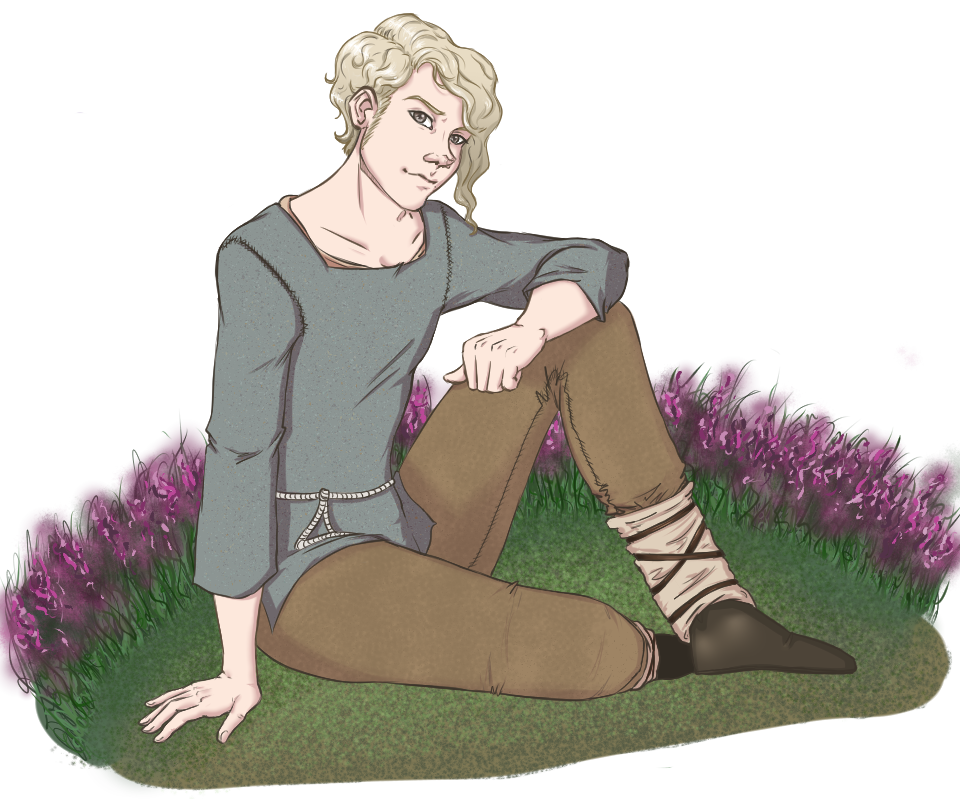 Basic Information
| | |
| --- | --- |
| Level: | |
| Race: | Accepted |
| Nationality: | Outlander |
| Citizenship: | Hollowed Grounds |
| Profession | |
| Primary Organisation | |
| Secondary Organisation | |
Character Information
| | | | |
| --- | --- | --- | --- |
| Face Claim: | | Strength: | 8 /30 |
| Age: | 28 (Deepfrost 281 PC) | Dexterity: | 12 /30 |
| Height: | 5'11 | Endurance: | 10 /30 |
| Weight: | 161 lbs | Luck: | 5 /30 |
| Gender: | Male | Relationship Status: | |
| Orientation: | Pan | Deity Alignment: | |
Appearance
Aonghas is pale skinned with light grey eyes, a slender face, high cheekbones, upturned nose and a strong chin. His light-blonde curly hair falls unkempt and a little longer on one side, with him preferring to keep it short to medium length. He has an average build, leaning more towards the athletic side.
Personality
Aonghas tends to play his cards very close to his chest and at times it can be difficult to suss out if what he's telling you is the truth or complete fiction. He is unforthcoming when talking about himself and at times plays coy, but is happy to let others divulge as much information about themselves they are comfortable to give.
Although secretive, he is very outgoing and is never shy in social occasions. He is friendly to strangers and enjoys the company of others much more than being alone.
He rarely acts on impulse and is more likely to hang back and assess a situation to try and take note of the variables before diving in, often tending to err on the side of caution. However this is not to say he doesn't act on emotion, it just either tends to be subtle or stewed over first.
History
Aonghas was born in the dark, bitter cold waters of a loch as a water spirit known as a Kelpie, longer ago than he cares to remember. As a Kelpie he had the ability to shift his form between a ghostly grey equine beast and a young human man.
When settlers began to claim the lands around his loch he stayed true to his nature and became a cautionary tale for taking care near the shore. Tales of the Kelpie luring children, women and men onto his back and dragging them down to his domain in the Otherworld were rife amongst locals for generations as a way to explain unexpected disappearances or deaths in and around the loch. Alas, when the locals were wise enough not to be lured by the mysterious grey steed adorned with a silver bridle, Aonghas turned to coming ashore in human form to seek his prey.
The locals would be wary and enamoured in equal measures of the stranger passing through their lands. On said occasions he would come ashore and tempt naive men and women, charming them with spun tales of where he was from and where he was going, luring them, in a different way, closer to him and closer to their own watery fate. However Aonghas was not unaccustomed to being enchanted by captivating strangers himself and enjoyed dalliances with mortals on many occasions, two of which developing into serious romantic relationships.
Romances between humans and spirits tend to be ill-fated however and Aonghas had fallen into poor favour with Callieach Bheur, the hag goddess. Her wrath resulted in the fates dealing him a poor hand as a punishment for what was perceived as hubris. This meant that, unfortunately neither of his relationships were to last and both ended in tragedy. At his recent loss a deep resentment began to manifest alongside his grief and he swore some form of retaliation on the goddess who was to blame.
It was when he was venturing out to her seat to confront her that he felt himself being pulled in a different direction towards something else. He allowed himself to be guided by whatever it was that had taken hold of his better judgement unbeknownst to him that the portal he was being led to was going to change his course indefinitely.
Other
When following the portal through to Caido Aonghas lost all abilities associated with being a Kelpie, this also includes remaining in his mortal form and beginning to age normally. His new biological age being 27 y/o. He has brought nothing with him but the clothes on his back.
Abilities
Channeling: Allows an Accepted to channel a lesser deity during a time of crisis (1x a season)
Type: Light | Rank: Basic

---
Items
---
Companion
Aonghas's Threadlog
1 active · 7 closed · 1 need replies · 8 total
Thread
Participants
Posts
Last Post
[Mini Event] Nature Red in Thorn and Claw

in Atheneum on 01-23-2020

Samuel, Jigano, Maea, Tarasha, Quanil, Libbs
31
Last post by Jigano

on 02-17-2020

Hall of the Lore King

in Atheneum on 01-18-2020

Jigano
8
Last post by Jigano

on 01-27-2020

[Mini Event] bellatrix audet concurrere viris

in Temple on 11-22-2019

Wessex, Oliver, Clemente, Sunjata, Hotaru, Samuel, Amun, Deimos, Adam, Abasi, Loren, Melita, Rexanna, Kiada, Nate, Peter, Cassandra, Phoebe, Lily, Amalia, Jigano, Dante, Evie, Harper
46
Last post by Samuel

on 11-27-2019

[SE] Mudslide on the rocks

in Oasis on 11-10-2019

Jigano
25
Last post by Jigano

on 12-01-2019

little town full of little people (open)

in The Settlement on 11-01-2019

Oliver
10
Last post by Aonghas

on 11-27-2019

Ghost story (open)

in Infirmary on 10-29-2019

Jigano, Amun
20
Last post by Amun

on 11-08-2019

[Mini Event] Refract bright like a diamond

in Temple on 10-17-2019

Random Event, Loren, Phoebe, Beatrix, Rexanna, Wessex, Bastien, Evie, Ezra, Sunjata, Granger, Abasi, James, Lusea, Amun, Clemente, Dante, Oliver
19
Last post by Evie

on 10-21-2019

Fáilte

in Atheneum on 09-03-2019

Loren
23
Last post by Aonghas

on 10-09-2019

1 active · 7 closed · 1 need replies · 8 total
Aonghas's Forum Info
Joined:
08-31-2019
Last Visit:
02-15-2020, 12:54 AM
Total Posts:
44 (0.2 posts per day | 0.08 percent of total posts)
(Find All Posts)
Total Threads:
2 (0.01 threads per day | 0.07 percent of total threads)
(Find All Threads)
Time Spent Online:
1 Day, 2 Hours, 27 Minutes






Aonghas's Signature
Speaks with Lowlands Scottish accent.


Pronounced "Angus"