Clemente Belcourt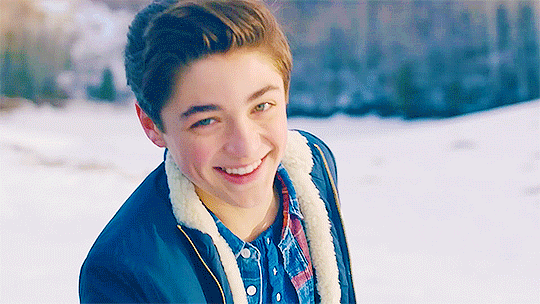 Basic Information
| | |
| --- | --- |
| Level: | 2 |
| Race: | Ascended |
| Nationality: | Outlander |
| Citizenship: | Hollowed Grounds |
| Profession | Apprentice |
| Primary Organisation | ☆ Artist's Sanctuary Guild |
| Secondary Organisation | |
Character Information
| | | | |
| --- | --- | --- | --- |
| Face Claim: | Asher Angel | Strength: | 12 /30 |
| Age: | 17 (Deepfrost 293 PC) | Dexterity: | 11 /30 |
| Height: | 5'9 | Endurance: | 13 /30 |
| Weight: | 145 | Luck: | 16 /30 |
| Gender: | Male | Relationship Status: | Single |
| Orientation: | Pansexual | Deity Alignment: | |
Appearance
Clemente is frozen in time between gangly teen and fit young male. He has a boyish, impish grin that often overshadows his kind face. Once you can see past his dour face and scowling defenses, he is often never without a mischievous grin or fang-filled smile. He's quite the handsome little rascal. Clemente's chestnut hair is often tousled, looking as if he has rolled straight out of bed (and he likely has, considering his age). With pale gauzy hazel eyes, fair skin, and dark hair, he could have grown to be quite a handsome man if he had not come through to Caido as an Ascended.
Personality
Clem is extremely wary of nearly everyone. It's difficult to corner him to even speak to him in the first place, more akin to a skittish wild animal than a young boy. He has been hurt many times, and abandoned far more. There has been no historical proof that forming deep or meaningful relationships with others leads to anything more than pain, and so he avoids growing attached to anyone. Though touch-starved, he has mental scars from physical and sexual abuse that make it difficult to achieve. He can be brash, gruff, and foul-mouthed as a personal defense against well-meaning strangers, wielding his street urchin history like a dull knife at the world at large. His only real goal is to survive.

Even so, Clemente is still nothing but a child. Beneath all the trauma and distrust he is a harmless trickster, more like a fox kit or a mischievous puppy. He likes to tease and joke, a jaded realist but one who nevertheless finds validation in making others smile. He is quite a kind and loving kid, but he has never been rewarded for these attributes, and so they lay dormant and untouched.
History
Clemente comes from a land where nearly all are Ascended - or would be, if that name existed there. Instead they were merely called Star Walkers. A fancy name for the dominant race, one that paralleled the much smaller number of Root Children - regular humans whose blood sustain the Star Walkers. Biological offspring were natural for his kind, but his parents were not fit to raise the smile-eyed boy. His father was killed not long after his tenth year of life, leaving Clem alone with his grieving mother who soon became addicted to a particularly volatile drug in her desire to escape their impoverished life.

Clemente's mother was hooked on Ether, a debilitating powder sold by a small faction of humans that didn't believe in continuing their symbiotic relationship with Clem's kind. The drug twisted the mind and gave the illusion of life and touch, something his mother would never be able to achieve. Clem watched his mother fade away, unable to keep herself fed and selling everything - including her body, and Clem's as well once her own failed to bring in buyers - to keep herself on the high. She died when Clem was only 14, and he spent two years getting by on his own in the streets. Here he met Dante, who became his singular best friend in the entire world.

For a world of rather socially advanced bloodsuckers, it was uncommon for a child his age to be on his own, but he had been taking care of himself for long enough with his ghostlike mother. He evaded all helpful hands, seeing only shadows and evil, the only things he'd known since he was born. Relying on Dante's help and stealing what he could not get legally, Clem survived two hard years after his mother's death. Clem falls into Caido gracelessly, tumbling from an empty warehouse where he was squatting and ending up in the shadow of the Spire.
Other
Abilities
Magic: (+10%) Sunlight Resistence
Type: Light | Rank: Basic

---
Items
Type: Grey
Signal Blocker | This chip blocks the biological signal from being sensed by the LongNight monsters once. While this chip is implanted the ascended is effectively invisible to the creature.
---
Companion
Clemente's Threadlog
0 active · 32 closed · 0 need replies · 32 total
Thread
Participants
Posts
Last Post
will you hold me when the curtains close?

in Aumakua on 06-10-2020

Nate
11
Last post by Clemente

on 06-26-2020

sweet venom in sleeping ears

in The Outskirts on 05-28-2020

Nephele
8
Last post by Nephele

on 06-10-2020

clam clam clam clam clam clam clam

in Kaiholo Port on 05-06-2020

Delta
7
Last post by Delta

on 06-11-2020

like a lazy ocean hugs the shore

in Ahi Coast on 04-24-2020

Rexanna, Wessex, Bastien, the VOICE, Nate, Amun, Letha
18
Last post by the VOICE

on 05-08-2020

on cloud nine

in Ahi Coast on 04-19-2020

Amun, Letha
12
Last post by Clemente

on 05-17-2020

a robot congress

in Shrine on 04-19-2020

Neron, Rexanna, Wessex, Bastien, Samuel, the VOICE, Nate, Amun, Letha, Osozo
22
Last post by the VOICE

on 05-05-2020

What's with the Strange Breed?

in Hale Ka'aila on 04-12-2020

Nate, Sunjata
17
Last post by Sunjata

on 06-05-2020

[Mini Event] the body electric

in Ascended Safehouse on 04-10-2020

Neron, Rexanna, Wessex, Bastien, Samuel, Nate, Amun, Letha, Osozo
39
Last post by Wessex

on 04-19-2020

where the sea breaks

in Shrine on 04-02-2020

the VOICE
10
Last post by the VOICE

on 05-07-2020

For a bag of guineas or a piece of eight

in Haulani on 02-22-2020

Maea
8
Last post by Clemente

on 03-25-2020

little lion man

in Tundra on 02-21-2020

Wessex
10
Last post by Clemente

on 04-01-2020

[Mini Event] come follow me down

in Woodland on 02-04-2020

Rexanna, Amun, Sabriel, Zidane, Nate, Neron, Loren, Samuel, Bastien, Wessex
29
Last post by Sabriel

on 02-19-2020

pot o' gold

in The Rainbow Road on 01-28-2020

Nate, Amun
22
Last post by Amun

on 03-25-2020

[Mini Event] we were born with lightning in our heels

in The Fangs on 01-21-2020

Rexanna, Wessex, Bastien, Samuel, the VOICE, Zidane, Amun
24
Last post by the VOICE

on 01-27-2020

flying kites in a blizzard

in The Citadel on 12-27-2019

Deimos
12
Last post by Deimos

on 04-01-2020

lie in the grass next to the mausoleum

in Ascended Safehouse on 12-27-2019

Wessex, Amun, Rexanna, Samuel, Bastien, Nate
20
Last post by Wessex

on 01-06-2020

[DROP] never had a friend like me

in Whitebrim on 12-12-2019

Random Event, Loren, Deimos, Wessex, Samuel, Jigano, Melita, Evie, Nate, Jiao, Sunjata, Hotaru, Amun, Oliver, Harper, Kaimana, Delphia, Noah
59
Last post by Sunjata

on 12-20-2019

baby lumberjacks still wear plaid

in Woodland on 12-12-2019

Nate
9
Last post by Clemente

on 03-25-2020

Burn your biographies, rewrite your history

in Ruins on 11-27-2019

Wessex
14
Last post by Clemente

on 03-25-2020

[Mini Event] bellatrix audet concurrere viris

in Temple on 11-22-2019

Wessex, Oliver, Sunjata, Hotaru, Samuel, Amun, Deimos, Adam, Abasi, Loren, Melita, Rexanna, Kiada, Nate, Peter, Cassandra, Phoebe, Lily, Aonghas, Amalia, Jigano, Dante, Evie, Harper
46
Last post by Samuel

on 11-27-2019

a mother's love

in Shrine on 11-08-2019

Random Event
3
Last post by Clemente

on 11-08-2019

to be like bewildered children

in Artisan's Guild on 11-06-2019

Oliver
9
Last post by Clemente

on 12-12-2019

We Start With ABC...

in Atheneum on 11-06-2019

Amun
17
Last post by Clemente

on 01-28-2020

my bones caught a fever

in Temple on 10-28-2019

Nate
6
Last post by Nate

on 11-11-2019

[RE] I am whoever I say I am

in Temple on 10-26-2019

Random Event, Bastien, Wessex
7
Last post by Bastien

on 10-29-2019

Double Trouble

in Temple on 10-24-2019

Dante
9
Last post by Dante

on 11-12-2019

Beginning Bonds

in Infirmary on 10-20-2019

Bastien
8
Last post by Clemente

on 11-07-2019

the best laid plans of mice and men

in Temple on 10-18-2019

Wessex, Amun
11
Last post by Amun

on 10-29-2019

[Mini Event] Refract bright like a diamond

in Temple on 10-17-2019

Random Event, Loren, Phoebe, Beatrix, Rexanna, Wessex, Bastien, Evie, Ezra, Sunjata, Granger, Abasi, James, Lusea, Aonghas, Amun, Dante, Oliver
19
Last post by Evie

on 10-21-2019

[PQ] Light Up The Night

in The Settlement on 10-03-2019

Rexanna, Bastien, Ezra, Amun, Oliver
30
Last post by Clemente

on 10-17-2019

artificial sunlight in my skin

in The Underground on 09-24-2019

N/A
1
Last post by Clemente

on 09-24-2019

the art of living silence

in The Spire on 09-18-2019

Rexanna
46
Last post by Rexanna

on 10-07-2019

0 active · 32 closed · 0 need replies · 32 total
Clemente's Forum Info
Joined:
09-18-2019
Last Visit:
06-26-2020, 08:37 PM
Total Posts:
134 (0.46 posts per day | 0.2 percent of total posts)
(Find All Posts)
Total Threads:
11 (0.04 threads per day | 0.29 percent of total threads)
(Find All Threads)
Time Spent Online:
2 Days, 11 Hours, 54 Minutes