Quanil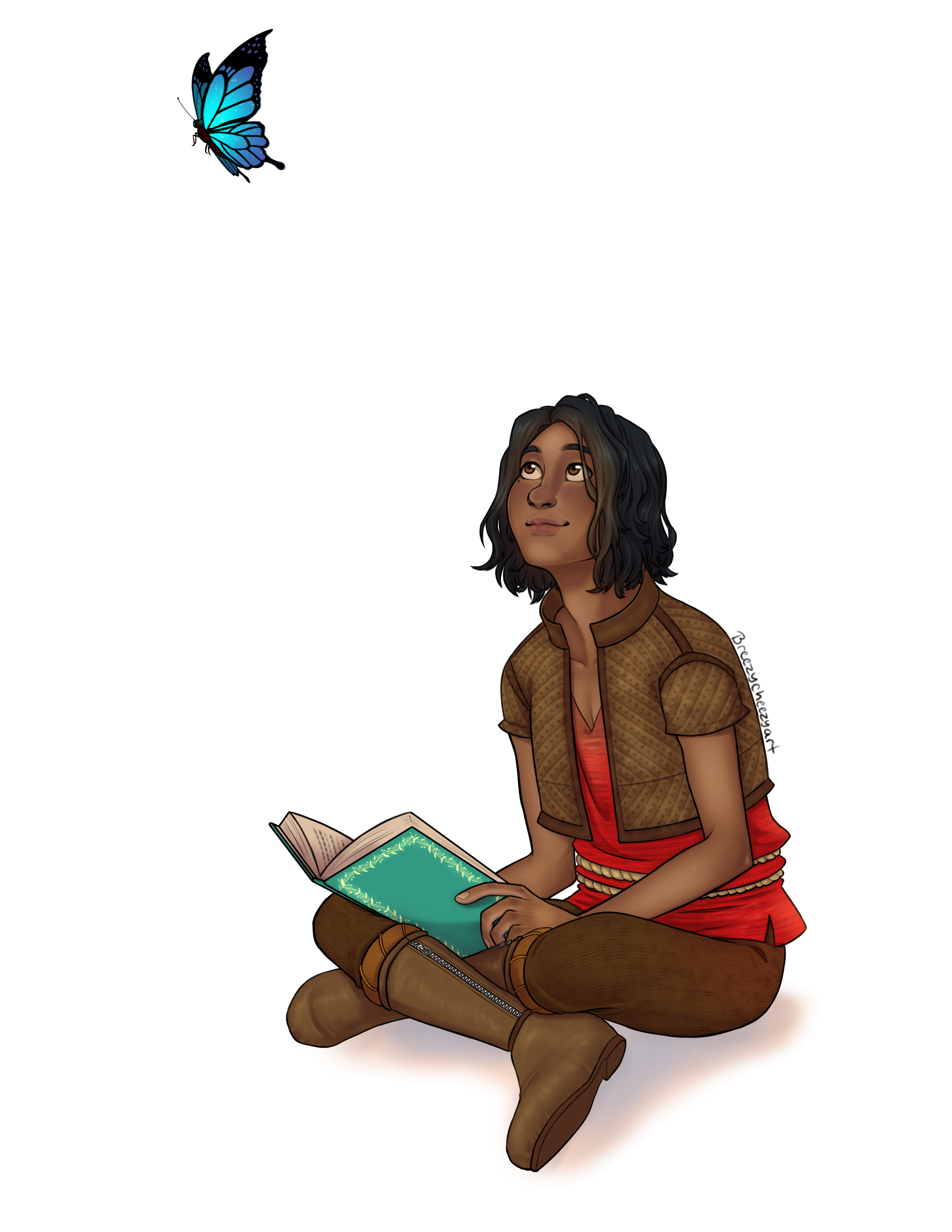 Basic Information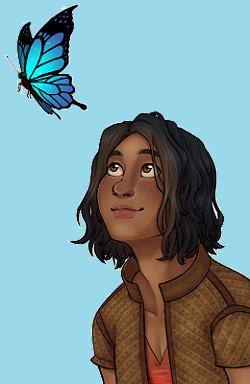 | | |
| --- | --- |
| Level: | 2 |
| Race: | Accepted |
| Nationality: | Natural |
| Citizenship: | Hollowed Grounds |
| Profession | |
| Primary Organisation | ☆ Loreseeker's Guild |
| Secondary Organisation | |
Character Information
| | | | |
| --- | --- | --- | --- |
| Face Claim: | avatar & profile img by BreezyCheezy | Strength: | 15 /30 |
| Age: | 18 (Deepfrost 292 PC) | Dexterity: | 14 /30 |
| Height: | 5'7" | Endurance: | 20 /30 |
| Weight: | ~120 lbs. | Luck: | 10 /30 |
| Gender: | nonbinary | Relationship Status: | Single |
| Orientation: | questioning | Deity Alignment: | |
Appearance
Underweight for their height, with brown skin, brown eyes with long, dark eyelashes, and stringy, ragged brown hair that goes almost to their shoulders. If you look closely, you can see freckles, and there's a small black beauty mark near their right eye. Their red shirt is their pride and joy, the only thing they have that's not brown. They have a rope for a belt. Overall, a fairly generic Fields-hand, young and full of energy. Their resting face carries a very slight smile, always making Quanil seem friendly, approachable, and, most of all, hopeful for the best.
Personality
Quanil has more curiosity than wisdom, but that's hardly surprising for a young scrap of a thing barely 17. It's been true their whole life though: they've always wanted to know the whys and hows of things, always wanted to learn more, to find out and discover. When the Loreseekers Guild was formed, Quanil was still too young to join, and their parents have been trying to protect them from running off ever since they turned 16. "It's safe here," they told them, but Quanil believes you're safer learning about the threats, figuring out how to defeat or overcome them.
Quanil can't help but be optimistic. There's so much out there in the world, so much to learn and know. They're excited to discover it all, and to use that knowledge to help people. Sometimes, Quanil gets overwhelmed at the thought of it all; their babbling has driven their parents to distraction more than once. But when it comes to a task, Quanil buckles down and does it, even when people tell them it's impossible (that just tends to make Quanil stick with it). Their neverending curiosity and determination to be a Loreseeker has ruled their life; that doesn't look to be changing any time soon.
History
Quanil was born in Deepfrost; some people claim they were born on LongNight, but if that's true, their parents aren't fessing up to it. They were raised in the Fields, and, when they were young, their mother made what both parents now consider to be a crucial mistake: she began asking passing merchants to help Quanil learn to read. She'd taught them the basics, but she was a poor hand at math and could easily get flummoxed by a smooth-talking salesman using big words. It was meant to make the child a better haggler with the merchants, to keep them out of the trouble she had.
But then Quanil started learning more than just letters and numbers. Tales of other places, rumors of life before (and beyond) the barrier, the workings of Gods (both Old and New), stories even of people from other worlds! And they were hooked. It was inevitable, but both parents blame Mom's insistence on their child learning more than they knew.
Quanil helped in the fields, liking the animals better than the plants, but always coaxing all living things to grow strong and tall and... and flavorful. Please. Their dad began to wonder if the kid wasn't daft, trying to talk plants into growing. Maybe it was just their imagination, but Quanil swore it helped, that the food tasted better. Dad shrugged and let the kid do what they wanted; wasn't hurting nothing, and at least they were out there tending to everything.
Eventually, they had two more children - Freina, a daughter, and Kedran, a son. Mom tried to be more careful with them, but Quanil would tell them stories and teach them their letters and numbers. Each time, the parents would be scared, but each time, they had nothing to worry about; Freina and Kedran loved hearing the stories, but considered them just that: stories. They learned their letters and numbers well enough that Freina has become the scourge of every merchant who crosses her path, with adorable Kedran melting hearts with his big eyes. The two of them score discounts in a carrot-and-stick method (Kedran's definitely the carrot; Freina's insistence on good prices and not getting cheated is the stick), and the family's doing well enough, all things considered. Neither of the younger children has any desire to leave the Fields.
Quanil's family are the type of people who hide under tables when scared, who close their eyes and pray it goes away; Quanil was the type to open the door, to peer out into the dark and confront. Mom and Dad wonder how this can possibly be their child, but they were both there when they were born, Mom adamant she never consorted with anyone else. Maybe the kid is cursed? They don't know.
Then two things happened that sealed their child's doom (in their eyes): the barrier came down and the Loreseekers Guild was created. That was all Quanil talked about ever since: I want to be a Loreseeker! Mom and Dad have done everything they can to keep their firstborn out of the Loreseekers' hands. Quanil will go off on some "adventure" and never come back! It's just too dangerous out there!
But telling Quanil they can't do something just makes them want to do it all the more.
Other
Abilities
Channeling: Allows an Accepted to channel a lesser deity during a time of crisis (1x a season)
Type: Light | Rank: Basic

---
Items
---
Companion
Flowerbirth 310
Longheat 310
Leafchange 310
Deepfrost 310
Quanil's Threadlog
2 active · 28 closed · 2 need replies · 30 total
Thread
Participants
Posts
Last Post
[PQ] [se] don't moss with me

in Woodland on 05-23-2020

Jigano, Amun
5
Last post by Jigano

on 05-31-2020

how far ill go (open)

in Kuali'i Isles on 04-24-2020

Delta
17
Last post by Delta

on 06-01-2020

Memory is the scribe of the soul.

in Crimson Cataract on 04-20-2020

Delphia
10
Last post by Delphia

on 05-30-2020

[SWE] The Festival of Lights

in Ahi Coast on 04-15-2020

Court Official, Jigano, Morgan, Weaver, Remi, Korbin, Loren, Alina, Amun, Saiden, Seren, Deimos, Sunjata, Nate, Rance, Hotaru, Ronin, Melita, Raza, Delphia, Samuel, Amalia, Oliver, Kellan, Lily, Ludo
75
Last post by Lily

on 04-29-2020

[Training] you can't overspend on training

in Fields on 04-09-2020

Melita
19
Last post by Quanil

on 04-20-2020

Looking for group

in Loreseeker's Guild on 04-09-2020

Petra
14
Last post by Quanil

on 04-15-2020

[Training] a promise to be kept

in Haulani on 04-06-2020

Sunjata
27
Last post by Quanil

on 04-17-2020

[Mini Event] See The Light

in Ahi Coast on 04-05-2020

Remi, Saiden, Deimos, Jigano, Melita, Nate, Sunjata, Rance, Joshua, Seren
31
Last post by Jigano

on 04-15-2020

[SE] a lantern to light for a lost friend

in The Hanged Man on 04-05-2020

Seren
23
Last post by Quanil

on 04-20-2020

[SE] puddle-jumpin'

in The Stonesong on 03-30-2020

Morgan
21
Last post by Quanil

on 04-18-2020

light the silver lamp

in Shrine on 03-27-2020

Ludo
3
Last post by Quanil

on 04-02-2020

[PQ] Home Is Where the Books Are

in Atheneum on 03-22-2020

Jigano, Random Event, Samuel, Ronin, Loren, Rance, Amalia
48
Last post by Samuel

on 04-15-2020

a ray of their own darkness

in Shrine on 03-20-2020

Amun
43
Last post by Quanil

on 04-07-2020

[se] how to rise again

in VlamVloed on 03-08-2020

Random Event, NPC, Melita
43
Last post by Melita

on 04-07-2020

[SE] the joy of youth is to disobey

in Kaiholo Port on 03-06-2020

Maea
48
Last post by Maea

on 03-20-2020

[Mini Event] rollin' bones

in Hale Ka'aila on 03-06-2020

Remi, Loren, Saiden, Ronin, Zariah, Ludo, Deimos, Amalia, Wessex, Jigano, Melita, Seiji, Maea, Sunjata, Oliver, Delphia, Weaver, Raza, Morgan, Rance, Alina, Kellan
80
Last post by Ludo

on 03-25-2020

Kissing Frogs

in The Underground on 03-03-2020

Seiji
2
Last post by Quanil

on 03-12-2020

[PQ] Not Quite Novacaine

in The Outskirts on 02-27-2020

Loren, Jigano
19
Last post by Jigano

on 03-17-2020

[PQ] a single courageous step

in The Labyrinth on 02-25-2020

Random Event, Samuel, Jigano, Weaver, Freina
41
Last post by Quanil

on 03-12-2020

a support for all other efforts

in Shrine on 02-25-2020

Random Event
3
Last post by Quanil

on 02-25-2020

a new pair of shoes

in VlamVloed on 02-23-2020

NPC, Arialla
43
Last post by Quanil

on 04-13-2020

[Training] Never give up, never surrender

in Oasis on 02-22-2020

Jigano
22
Last post by Quanil

on 03-03-2020

[Training] bookish men must be more quarrelsome than others

in Military Barracks on 02-12-2020

Alina
21
Last post by Quanil

on 02-21-2020

the time ticks by

in VlamVloed on 02-05-2020

Sunjata
46
Last post by Quanil

on 03-10-2020

unnecessary anger

in Domiciles on 02-05-2020

Nate, Libbs
7
Last post by Quanil

on 02-10-2020

the leaping greenly spirits of trees

in Glade on 02-01-2020

Nephele
16
Last post by Nephele

on 04-12-2020

[PQ] this fate is well deserved

in Sanctuary on 01-26-2020

Ronin, Maea, Sunjata, Libbs
36
Last post by Sunjata

on 02-05-2020

[Open] all new ideas are shy when introduced

in VlamVloed on 01-25-2020

N/A
2
Last post by Quanil

on 01-30-2020

[Mini Event] Nature Red in Thorn and Claw

in Atheneum on 01-23-2020

Samuel, Jigano, Maea, Aonghas, Tarasha, Libbs
31
Last post by Jigano

on 02-17-2020

running away and towards

in Loreseeker's Guild on 12-31-2019

Jigano
44
Last post by Jigano

on 01-24-2020

2 active · 28 closed · 2 need replies · 30 total
Quanil's Forum Info
Joined:
12-30-2019
Last Visit:
06-07-2020, 05:42 AM
Total Posts:
286 (1.55 posts per day | 0.43 percent of total posts)
(Find All Posts)
Total Threads:
14 (0.08 threads per day | 0.38 percent of total threads)
(Find All Threads)
Time Spent Online:
3 Days, 15 Hours, 35 Minutes