Merkesh Alaric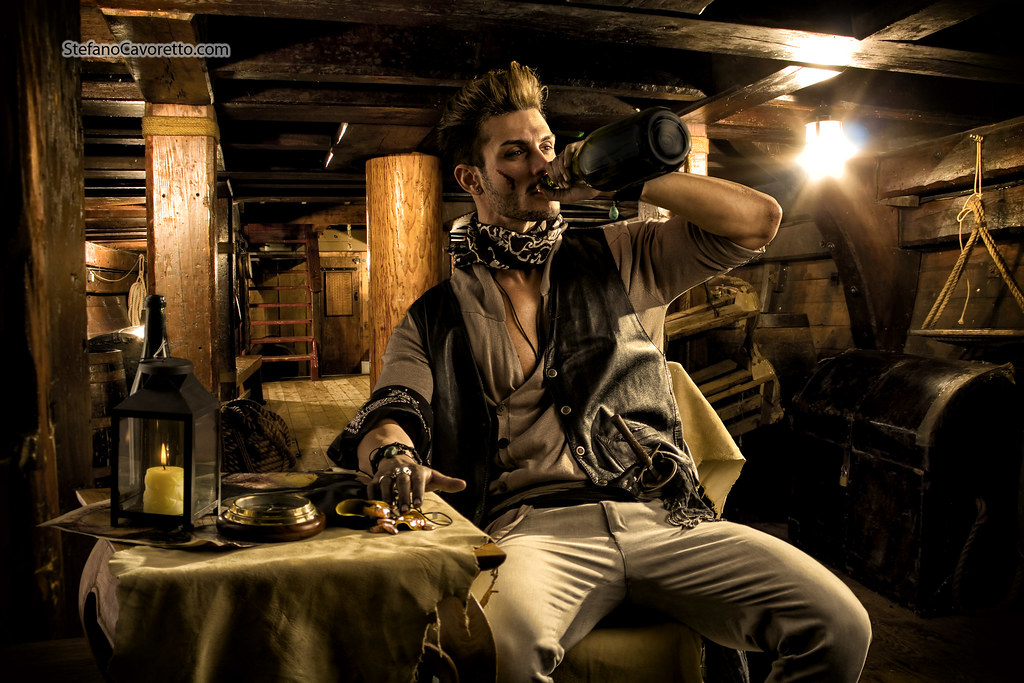 Basic Information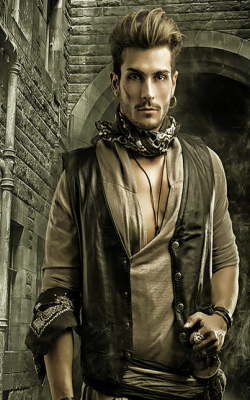 | | |
| --- | --- |
| Level: | |
| Race: | Attuned |
| Nationality: | Natural |
| Citizenship: | Nomadic |
| Profession | Pirate |
| Primary Organisation | |
| Secondary Organisation | |
Character Information
| | | | |
| --- | --- | --- | --- |
| Face Claim: | Stefano Cavoretto | Strength: | 10 /30 |
| Age: | 29 (Longheat 281 PC) | Dexterity: | 8 /30 |
| Height: | 6'0 | Endurance: | 7 /30 |
| Weight: | 160 lbs | Luck: | 10 /30 |
| Gender: | Male | Relationship Status: | Free as the wind ~ |
| Orientation: | Bisexual | Deity Alignment: | |
Appearance
Handsome man that you normally see with scruff and medium length hair normally pushed backwards with his hand. His hair color is dark brown while the eyes are almost the exact same color. He is from the beginning pale skinned but haven't seen that in years as of now because of him being constantly tanned from the sun into a lighter brown. It's not uncommon to see dirt on both his clothing and skin since he is an active person, or well, an active drinker. He usually starts out the day with being clean but that is getting erased pretty quickly.


Clothing wise you can kind of figure what he is doing with his life as he wears a kind of pirate chic outfit that varies in colors. Pants, shirt with a open west on top and bandanas/rags tied at multiple spots on his body. You never really know when you need a rag after all! Also bracelets and rings is something he always have on him together with a necklace or two. A sword is always on him in its sheath just as common as boots on his feet. Not rare that he carries with him liquor wherever he goes as well.
Personality
He is a wave strong as a tsunami as he steers the open sea's on his beloved ship called The Widow in Caido. He is a man living free in the sea breeze in company of both alcohol and loot. He is in love with expensive items that he seldom have any use for and the rarer the better! Gems, metals, jewelry of any sorts he have safely stashed away at a hidden location together with rare items like extraordinary fabrics, crafts and nonsense. He is almost as a kid at heart with quick comebacks, mostly drunken demeanor and still with refined fighting skills. Some can call him charming while others refers to him as a health hazard. He does whatever he wants, whenever he wants to do it.


He seams like a life loving vandal in many aspects of his life and are good at improvising escapes from dangers of any kind. Also loves playing stupid when time comes for that even though he is not really stupid at all. He takes control over most situations he end up in as easy as breathing, even if it is an act. He also can make up stories to gain sympathy or laughs, whichever makes his situation work and give him what he wants. Any opportunity of romance is something he doesn't waste even though he is far from the most solid character out there. He can be sweet and make you feel like you are the only one for him, until next night arrives and he does the same to someone else. Leaving a trail of broken hearts behind him. He is not evil per say, just likes his freedom and as of yet he still haven't fallen in love even once. Maybe it's time for that to change?


He have a more serious side as well that few ever sees considering what type of "douche" he can be seen as. He loves to spend a majority of the night looking up on the stars and going through the what ifs and maybes. He have always been fascinated about the universe but nowhere near the love he feels about the sea. Still it have a solid place in his heart and he is longing for "visitors" from the black sky. Maybe that's why he is always fascinated about the Abandoned's? Since they tended to be aliens from another world.
History
Born and raised into the pirate life he is the only child of the late Captain of The Widow. After his father's demise he inherited the majestic ship and crew. But before we get into that let's start from the beginning. He was the product of one of his father's flings once upon a time and got taken from his heartbroken mother to grow up on the sea. Yes, his father was a bit of a pig towards women. It's quite miraculous that he didn't have more children then Merkesh to be honest but also maybe lucky. Considering how strict of a father he turned out to be. As soon as Merkesh could walk he started doing choirs on the ship fitted to his age (or maybe not?). Dishes, cooking, mopping, guarding the prison, inventory, fishing, restoration of the ship and so on. He started of early each morning and finished late at night every single day together with the crew.


This continued on til he was around 14 when he graduated to helping out in more ways. Like; looting, stealing and learning how to handle the ship, as his fathers health was starting to go south. He got trained from childhood in fighting, especially with blades and also started to consume alcohol in his early teens. As 19 his father passed away from whatever illness he had been fighting against for the past 5 years which made it so that Merkesh was the new captain of the ship. New crew members came to play since many started to get to old by now to handle their responsibilities and it was quite a struggle at first. The leftover, strong crew from his fathers rule had to shape up the new arrivals and some where killed as traitors. He now have a stabile, reliable crew that took years to get into shape. Right now they are around hollowed grounds and the greatwood but that's not the place they originated from however!
Other
He can turn into a black Raven as an Attuned this far which makes it easier when in a jam to flee the fields when needed. A pure noctis colored bird with piercing yellow eyes.
Raven
Abilities
---
Items
---
Companion
Merkesh's Forum Info
Joined:
01-19-2020
Last Visit:
02-25-2020, 07:25 PM
Total Posts:
27 (0.21 posts per day | 0.04 percent of total posts)
(Find All Posts)
Total Threads:
4 (0.03 threads per day | 0.11 percent of total threads)
(Find All Threads)
Time Spent Online:
14 Hours, 45 Minutes, 2 Seconds