Morgan Aristomache
the Glacier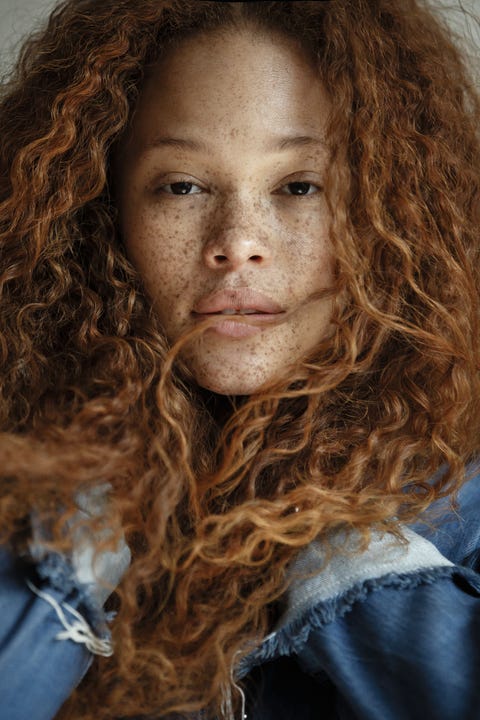 Basic Information
Level:
6
Race:
Abandoned
Nationality:
Natural
Citizenship:
Halo
Profession
Warden of Halo

✓

Organisation(s)
Character Information
Face Claim:
Sabina Karlsson
Strength:
23 /30
Age:
38 (Leafchange 275 PC)
Dexterity:
20 /30
Height:
5' 9"
Endurance:
22 /30
Weight:
12st
Luck:
14 /30
Gender:
Female
Intuition:
0 /3
Orientation:
Bisexual
Deity Alignment:
None
Relationship Status:
With Neron
Appearance


Morgan dresses in her heavy black cloak over her face and hair, which bursts out from under the hood most of the time. She wears furs over armour, thick gloves, and often a scarf over the lower half of her face - it would seem the Captain does not like to reveal much of herself. At almost 6ft tall she is certainly a striking presence on any battlefield or negotiation table, walking in thick steel-toed boots and not afraid to take up space.

Beneath the thick layer of clothing she is freckled with light tan skin and large, poofy ginger hair in waves that comes down over both sides of her face - she does not seem to want to tame this, despite it being an obvious disadvantage in battle. She wears very little in the way of jewellery or ornament, only one wedding ring, simple silver, on her left hand. She never wears make up. Very occasionally, for a special occasion, she may wear a pair of her mother's earrings; usually she has simple silver studs in her lobes.

Her body when revealed is covered in several scars, most notably a neat line running up her side and across into her chest. Very few people have seen this or indeed any of her other marks, and she'd like it to stay that way.
Personality
Morgan is deeply superstitious and cautious, thinking the best approach to anything in life, be it war or love, is to consider all options before making a move. She believes deeply in the spirits and energies of things in Caido and believes they are more important to the runnings of the world than the Gods, who feel primarily like distant busybodies that don't actually have to live in it. Everything she does is thought through the lense of the spirits around her and in the land and she cares little for the opinions of God's devotees or Abandoned that have rejected all forms of divine beings.

As a military leader, Morgan is not afraid to assert herself and will speak her mind if she needs to. She is not unkind, but will not extend kindness unless it is deserved. With people she respects and admires, she can be warm and friendly, but it is difficult to get yourself to this level with her.

Her dependency on respect for tradition, spirits and Caido can lead to her being close-minded to new things and ideas. When she has become determined to do something, she will carry it through to the bitter end.
History
Born to Halo's most popular spirit medium as the result of an affair with a guard captain, Morgan grew up in a life compromised of two halves - spent some days with her father learning how to spar and others contacting ghosts and nature spirits with her mother, hands previously used for holding swords now glazing over crystal balls.

Finding within herself a great stamina and willingness to subject herself to hardship to protect the people around her, Morgan quickly decided she wanted to grow up to work in the same area as her father, though she did not ignore the lessons her mother had to teach her.

At 25, deciding before she took on the job she needed to find closure for her spiritual beliefs, she went into the Fangs, living alone in the snow-crusted mountains for three long years. What she did in these three years is unknown to most, but it was in this time she mastered her water magic and solidified her courage into an absolute ambition to succeed. She came back strong, with a tolerance to pain to rival any weary soldier.

One of the youngest Captains on record, she is well aware of the honour she has been given and is determined not to squander it.
Other
Morgan's Unicorn Companion, Eunike: (drawn by Odd!! <3 )


A rough estimate of this character's damage potential is as follows:
HP: 132

Unarmed strike:11.5

Physical attack with a basic weapon/attuned shifts: 21.5

Physical attack with an upgraded weapon/attuned shifts: 31.5

Physical attack with a mastered weapon/attuned shifts: 41.5

Magical attack with basic magic/mythical shifts: 21

Magical attack with upgraded magic/mythical shifts: 31

Magical attack with mastered magic/mythical shifts: 41
---
Abilities
Water manipulation: Can create and control water. Must be within a 30ft radius.
Type: Light | Rank: Mastered


Telekinesis: Can move large objects.
Type: Grey | Rank: Mastered


Earth Manipulation: Can manipulate the earth. Must be within a 5ft radius, control is weak and unstable and requires concentration.
Type: Grey | Rank: Basic


Summoning : Can summon 1 small animal (house-cat sized or smaller)
Type: Light | Rank: Basic

---
Citizenship Ability
Halo has hardened you against her weather and her terrain. Once per PQ/PQ+/KQ/Drop, you can ignore an environmental effect that would otherwise hinder you (rough terrain, cold, wind, etc). (In order to use this ability, you must put a clear note in the bottom of your post immediately following the effect you want to ignore).
---
Items
Type: Light | Style: Other | Level: Basic
Heat-Cloak | A magical cloak that always keeps the wearer warm.

Type: Grey | Style: Defensive | Level: Basic
Amor Pendant | A pendant that hangs over Morgan's chest. When pressed, it magically armors her torso down to her hips. (Made by Deimos)

Type: Grey | Style: Other | Level: Basic
Leviathan Scale | A large, razor sharp scale which gleams a burnished steel colour. This may be useful for armour or weapons!
---
Companion
EUNIKE - Mythical - Unicorn (Healing)
Player Post Count: 8,708
The Greatwood
Sidhe Village - No thread

Observatory - No thread
The Bodega - No thread
Undercroft - No thread

The Stonesong - [SE] puddle-jumpin'

Sea of Branches - No thread
Whispershore - No thread
The Drop - No thread

The Wildwood - rain rain go away {SE} {OPEN}

Ludo's Woods - No thread
Crimson Cataract - No thread
Mathair - No thread

Explored: 2/12
Torchline
Ahi Coast - [OPEN] A Different Kind of Sun

Kaiholo Port - No thread
Hale Ka'aila - rollin' bones
The Rainbow Road - No thread
Aumakua - No thread
Miana Pool - No thread

Haulani - No thread

The Hanged Man - No thread
Rae's Fingers - No thread
Apopo - No thread

Arclight Ocean - No thread

Underwater City - No thread
Kuali'i Isles - No thread
The Maw - No thread

Explored: 2/14
Stormbreak
City Area - No thread

The Celestine - No thread
The Tower - No thread

Judgement's Needle - No thread
The Archive - No thread
The Collegium - No thread

Pacifist Plaza - No thread
The Silk Houses - No thread

The White Hart - No thread
Mother Molly's - No thread

Trinity Temple - No thread

Sleeping Steps - No thread

The Falling - No thread
City Gates - No thread

The Righteous Road - No thread
The Dragon's Nest - No thread

Explored: 0/17
The Draig Cordillera
The Draig Cordillera - No thread

Amphitheatre - No thread
Infinity Fields - No thread
Caido's Lighthouse - No thread
Weightless Waterfall - No thread
Summit - No thread

Explored: 0/6
King's End
King's End - No thread

The Barrows - No thread

The Last Step - No thread
Meadowreach - No thread

Queen's Gambit - No thread
Mourn - No thread
Boondocks - No thread

Explored: 0/8
Hak Etme
Hak Etme - No thread

The Furnace - No thread
Boneyard - No thread
Sunshine Pools - No thread
Sea of Dreams - No thread

Explored: 0/6
The Feverlands
The Feverlands - No thread

The Hanging Tree - No thread
Tar Pits - No thread
The Sallow Swamp - No thread

Explored: 0/4
Oerwoud
Oerwoud - Love is stored in the Vines

Tanglefoot - No thread

Leap of Faith - No thread
The Mistbanks - No thread

Undergrove - No thread

The Peepholes - No thread

Brittlebone Bridge - No thread
Wishtide Waterways - No thread

Explored: 1/8
The Climb
The Climb - No thread

The Crust - No thread

Angel's End - No thread
Lava Pits - No thread

The Burrows - No thread

Explored: 2/9
Morgan's Threadlog
0 active · 167 closed · 0 need replies · 167 total
Thread
Participants
Posts
Last Post
[Mini Event] Pull My Trigger

in Council Hall on 01-28-2022

Sah, Neron
3
Last post by Neron

on 02-21-2022

TO: Leaders of Torchline, The Grounds and Sidhe

in IC Written Communications on 01-26-2022

Remi, Juniper
3
Last post by Juniper

on 01-28-2022

loving you from the red side of the moon

in Palace on 01-17-2022

Neron
18
Last post by Neron

on 02-23-2022

[RQ] Searching for the sun

in The Citadel on 01-08-2022

Sah, Shaye
5
Last post by Morgan

on 01-30-2022

above and beyond

in Shrine on 12-29-2021

Neron, Frey, Sah
8
Last post by Sah

on 01-16-2022

[Mini Event] Offense or Defense

in Council Hall on 12-28-2021

Neron, Kiada, Sah, Shaye
19
Last post by Neron

on 01-23-2022

when will my sassy ascended return from the war

in The Citadel on 11-22-2021

Neron, Wessex, Kiada
11
Last post by Wessex

on 12-17-2021

lower the gates

in The Citadel on 11-16-2021

Sah
15
Last post by Morgan

on 01-07-2022

in frozen fractals all around

in Shrine on 11-09-2021

Random Event, Neron, Wessex, Kiada
15
Last post by Random Event

on 11-15-2021

[Training] itch that itch

in Deepfrost Shields Barracks on 11-08-2021

Neron
13
Last post by Morgan

on 12-14-2021

common people

in The Citadel on 11-08-2021

N/A
1
Last post by Morgan

on 11-08-2021

to Morgan, Neron, and Kiada

in IC Written Communications on 10-29-2021

Wessex, Kiada
3
Last post by Kiada

on 11-03-2021

Maybe it's not meant to break?

in Sea of Glass on 09-20-2021

Random Event, Neron, Sah
14
Last post by Neron

on 10-24-2021

the world spins madly on

in Palace on 09-17-2021

N/A
1
Last post by Morgan

on 09-17-2021

[Training] A test of contrasts

in Deepfrost Shields Barracks on 09-02-2021

Sah
17
Last post by Sah

on 11-05-2021

[OPEN]Oh Goch, Whats That?

in Tundra on 08-25-2021

N/A
1
Last post by Morgan

on 08-25-2021

To Warden Aristomache

in IC Written Communications on 08-10-2021

Juniper
2
Last post by Morgan

on 08-10-2021

[Mini Event] well, who'd have thought

in Council Hall on 08-01-2021

Neron, Sah, Aino, Cordelia
15
Last post by Sah

on 09-02-2021

you and me all of the people

in Palace on 07-21-2021

Wessex
14
Last post by Morgan

on 08-16-2021

i kept my promise, dont keep your distance [OPEN]

in Council Hall on 07-20-2021

Neron, Aino
8
Last post by Morgan

on 07-30-2021

The Gameplan

in Shrine on 07-20-2021

Random Event, Neron
6
Last post by Random Event

on 07-28-2021

[KQ] (invasion) the take over, the break's over

in Palace on 07-12-2021

Edrei, Neron, Wessex, Nate, Random Event, Deimos, Korbin, Hotaru, Noah
42
Last post by Random Event

on 07-20-2021

not the first time

in The Fangs on 07-08-2021

Neron
8
Last post by Morgan

on 07-11-2021

[KQ] all the triumph overhead, disaster underneath

in Council Hall on 07-01-2021

Random Event, Deimos, Hotaru, Noah, Seren
23
Last post by Random Event

on 07-07-2021

Crossing the Line

in Shrine on 06-24-2021

Random Event
2
Last post by Random Event

on 06-24-2021

[Training] [open] a world full of violence

in Deepfrost Shields Barracks on 06-21-2021

Wessex
15
Last post by Morgan

on 07-14-2021

You'll believe God is a woman

in Domiciles on 06-21-2021

Neron
22
Last post by Neron

on 07-31-2021

this chaos defies imagination

in Snowcloak on 06-14-2021

Hotaru
8
Last post by Hotaru

on 06-18-2021

to the Warden —

in IC Written Communications on 06-14-2021

Sunjata
7
Last post by Sunjata

on 06-29-2021

[RQ hand in] mountains outta concaves

in Shrine on 06-14-2021

Noah, Frey
6
Last post by Frey

on 06-20-2021

the poet, not just the muse

in Snowcloak on 06-02-2021

Hotaru
11
Last post by Morgan

on 06-14-2021

once again i turned blind

in Council Hall on 06-01-2021

Neron
13
Last post by Morgan

on 06-20-2021

it's down to the wire this time

in Council Hall on 05-26-2021

Deimos
9
Last post by Deimos

on 05-30-2021

[RQ] it looks back into you

in Sea of Glass on 05-22-2021

Neron, Aino
16
Last post by Neron

on 06-15-2021

[se] in the armory of your soul

in The Citadel on 05-05-2021

Deimos, Noah
19
Last post by Deimos

on 06-21-2021

Love is stored in the Vines

in Oerwoud on 04-27-2021

Neron
20
Last post by Neron

on 06-01-2021

[PQ] do this now, enjoy it then

in The Citadel on 04-13-2021

Deimos, Noah, Aisha
22
Last post by Deimos

on 06-02-2021

[Mini Event] sticks and stones

in Kraai on 03-25-2021

Remi, Aisha, Deimos, Hotaru
15
Last post by Remi

on 04-03-2021

Oil and Smoke

in Snowcloak on 03-25-2021

Hotaru
19
Last post by Hotaru

on 05-31-2021

so are the cannibals still a thing or

in Whitebrim on 03-24-2021

Deimos, Neron, NPC
29
Last post by Deimos

on 04-26-2021

Warden A

in IC Written Communications on 03-24-2021

Remi
5
Last post by Remi

on 03-25-2021

anything you need, you got it

in Shrine on 03-22-2021

Frey, Aisha, Chulane
9
Last post by Aisha

on 04-02-2021

[Training] let the cuts close

in Deepfrost Shields Barracks on 03-11-2021

Deimos
22
Last post by Morgan

on 04-13-2021

[Mini Event] Thoughts for Flowerbirth

in Council Hall on 03-09-2021

Noah, Deimos, Chulane, Kiada, Aisha
7
Last post by Morgan

on 03-22-2021

my beautiful house, my beautiful neron

in Palace on 03-02-2021

Neron
11
Last post by Morgan

on 03-15-2021

Peaceful Transfer

in Council Hall on 03-02-2021

Deimos
9
Last post by Morgan

on 03-09-2021

[KQ] a tomb of your making

in Military Barracks on 02-14-2021

Court Official, Wessex, Bastien, Samuel, Ezra, Mabel, Azrael, Mara, Aamu, Elide
80
Last post by Aamu

on 03-02-2021

don't hesitate to break them doors on down

in Theskyra House on 02-09-2021

Wessex, Azrael
11
Last post by Wessex

on 02-14-2021

all i ask is that you listen to me

in Theskyra House on 02-08-2021

N/A
1
Last post by Morgan

on 02-08-2021

[Training] we got innocence for days

in Oasis on 02-01-2021

Nate
10
Last post by Morgan

on 02-14-2021

time grows short and nights grow long

in Theskyra House on 01-20-2021

Neron, Wessex
19
Last post by Wessex

on 02-07-2021

quicker now, pulse and breath

in Domiciles on 01-16-2021

Neron
21
Last post by Morgan

on 02-14-2021

[Mini Event] I keep on falling back into you

in Ahi Coast on 01-09-2021

Vervain, Neron, Bastien, Melita, Adam, Nate, Juniper, Sunjata, Raza, Zephyr, Milo, Aurelia, Neos, Rigby, Shaju
32
Last post by Sunjata

on 01-30-2021

effervescent

in Domiciles on 01-04-2021

Neron
9
Last post by Neron

on 01-14-2021

just come out and say it

in Kraai on 12-31-2020

Neron
8
Last post by Morgan

on 01-04-2021

actions and motives

in Council Hall on 12-30-2020

Deimos
11
Last post by Deimos

on 01-10-2021

take the weight off your mind

in Shrine on 12-20-2020

Deimos, Frey
4
Last post by Morgan

on 01-01-2021

say what you believe

in Shrine on 12-06-2020

Hester
7
Last post by Morgan

on 12-24-2020

my bloody lip never tasted so sweet

in Council Hall on 11-22-2020

Aisha
16
Last post by Morgan

on 12-12-2020

no act of charity goes unresented

in Council Hall on 11-20-2020

Loren
14
Last post by Morgan

on 12-13-2020

ancient daggers

in Council Hall on 11-19-2020

Deimos
12
Last post by Morgan

on 12-02-2020

locked out of heaven

in Palace on 11-17-2020

Neron
29
Last post by Morgan

on 12-27-2020

the stones themselves

in The Citadel on 11-11-2020

Loren, Neron
10
Last post by Morgan

on 11-24-2020

the kind of man I can be

in Palace on 11-01-2020

Neron
27
Last post by Neron

on 11-17-2020

[KQ] my duty, my curse

in The Mountain's Roar on 10-31-2020

Court Official, Deimos, Amalia, Wessex
35
Last post by Wessex

on 11-11-2020

on the wings of a dream [Open]

in Shrine on 10-28-2020

Loren
12
Last post by Loren

on 11-09-2020

keep on surviving

in The Mountain's Roar on 10-27-2020

Deimos, Sunjata
3
Last post by Sunjata

on 10-27-2020

A Matter of Urgency

in Slagveld on 10-26-2020

Sunjata
7
Last post by Morgan

on 10-28-2020

Warden Aristomache

in IC Written Communications on 10-26-2020

Nate
3
Last post by Nate

on 10-26-2020

Halloween Event 2020 - Morgan/Zeph

in Not-Canon on 10-26-2020

NPC, Zephyr
15
Last post by NPC

on 11-15-2020

Hot air for a cool breeze, cold comfort for change

in The Mountain's Roar on 10-20-2020

Chulane
2
Last post by Chulane

on 10-25-2020

[Training] store what you need

in The Citadel on 10-19-2020

Noah
15
Last post by Noah

on 11-24-2020

A General and A Warden walk into a bar...

in Kraai on 10-16-2020

Deimos
44
Last post by Deimos

on 11-18-2020

Things Better Left Unsaid

in Council Hall on 10-15-2020

Loren
15
Last post by Morgan

on 10-25-2020

so relieved to be going home

in The Outskirts on 10-14-2020

Neron
19
Last post by Morgan

on 11-01-2020

[SWE] death is sure to outlast this catastrophe

in The Spire on 10-14-2020

Remi, Loren, Saiden, Ronin, Neron, Delphine, Wessex, Bastien, Samuel, the VOICE, Nate, Sunjata, Amun, Noah, Mara
16
Last post by Delphine

on 10-16-2020

our history of silence

in Council Hall on 10-13-2020

Remi, Loren, Ronin, Amalia
22
Last post by Remi

on 10-13-2020

Warden M

in IC Written Communications on 10-13-2020

Remi
2
Last post by Morgan

on 10-13-2020

To the Warden

in IC Written Communications on 10-10-2020

Wessex
2
Last post by Morgan

on 10-10-2020

asked and answered

in Council Hall on 10-10-2020

Juniper
19
Last post by Juniper

on 10-30-2020

it's time to try defying gravity

in Frey's Breath on 10-09-2020

Loren
14
Last post by Morgan

on 10-20-2020

Time it took us; to where the water was

in Frey's Breath on 10-06-2020

Deimos, Loren, Chulane, Random Event
6
Last post by Morgan

on 10-09-2020

[PQ] if the sun never shows its face again

in The Citadel on 10-06-2020

Loren, Deimos, Hester
25
Last post by Morgan

on 10-31-2020

[Training] renewed blades

in Snowcloak on 10-01-2020

Deimos
13
Last post by Deimos

on 10-10-2020

while others are crumbling

in The Fangs on 09-30-2020

Random Event, Neron
19
Last post by Neron

on 10-14-2020

I too have a destiny

in Council Hall on 09-30-2020

Deimos
11
Last post by Morgan

on 10-05-2020

making me feel glad that I'm not you

in Frey's Breath on 09-28-2020

Random Event, Saiden
29
Last post by Morgan

on 10-14-2020

[Mini Event] [SE] a star on the water

in Council Hall on 09-28-2020

Random Event, Loren, Neron, Deimos, Noah, Chulane
17
Last post by Morgan

on 10-08-2020

[PQ] (SE) quench this fire

in Frey's Breath on 09-20-2020

Remi, Saiden, Ronin, Amalia, Chulane
37
Last post by Ronin

on 09-28-2020

pick through the wreckage

in The Citadel on 09-17-2020

Deimos, Chulane
25
Last post by Deimos

on 10-04-2020

chasing the clouds away

in Kraai on 09-16-2020

Neron
21
Last post by Morgan

on 09-30-2020

hope wandering into my mind

in Shrine on 09-15-2020

Frey, Chulane
8
Last post by Chulane

on 09-28-2020

for Queen Wessex

in IC Written Communications on 09-15-2020

Wessex
3
Last post by Morgan

on 09-16-2020

[DROP] and the ice sea cracks all around

in Sea of Glass on 09-15-2020

Random Event, Loren, Saiden, Neron, Amalia, Nate, Amun, Chulane, Amaris, Falke, Luciana, Seraphina
54
Last post by Seraphina

on 09-24-2020

before the coming storm

in Council Hall on 09-13-2020

Ronin, Saiden, Amalia, Chulane, Remi
14
Last post by Ronin

on 09-19-2020

living to serve, serving to live

in Palace on 09-11-2020

Chulane
17
Last post by Chulane

on 09-24-2020

Morgan Aristomache, Warden of Halo

in IC Written Communications on 09-08-2020

Ronin
2
Last post by Morgan

on 09-08-2020

wouldnt hold my breath

in Tundra on 09-03-2020

Random Event
13
Last post by Morgan

on 10-25-2020

drink with me

in Sanctuary on 09-03-2020

Deimos
14
Last post by Deimos

on 09-18-2020

[Training] I'm through accepting limits

in The Citadel on 08-24-2020

Loren
16
Last post by Morgan

on 09-04-2020

would suffice

in Palace on 08-19-2020

Deimos
18
Last post by Morgan

on 09-02-2020

Cherry Coloured Funk

in Tundra on 08-18-2020

Hester
8
Last post by Morgan

on 09-12-2020

tip of the iceberg

in The Citadel on 08-17-2020

Loren
14
Last post by Morgan

on 08-24-2020

take a chance

in Kraai on 08-16-2020

Neron
46
Last post by Neron

on 09-16-2020

[SE-OPEN] what I might discover inside

in Fields on 08-06-2020

Chulane
21
Last post by Morgan

on 08-28-2020

Conversations I Don't Want to Have

in Palace on 07-24-2020

Neron
25
Last post by Morgan

on 08-16-2020

[Training] Times have changed

in Ruins on 07-23-2020

Deimos
15
Last post by Morgan

on 08-07-2020

It's a cold cold world out there

in Temple on 07-21-2020

Remi, Evie, Nephele
17
Last post by Remi

on 08-12-2020

[PQ] We're miles from way back when

in Palace on 07-15-2020

Beatrix, Noah, Chulane, Hester
31
Last post by Chulane

on 08-23-2020

meeting of minds

in IC Written Communications on 07-14-2020

Remi
2
Last post by Morgan

on 07-14-2020

Lie in wait, by the gleaming city gate

in Tundra on 07-09-2020

N/A
1
Last post by Morgan

on 07-09-2020

[se] The never-ending swaying haze

in Military Barracks on 07-07-2020

Deimos
28
Last post by Morgan

on 07-23-2020

[Mini Event] Possibilities laid out before us

in Snowcloak on 07-07-2020

Beatrix, Noah, Chulane, Jace, Hester
14
Last post by Morgan

on 07-30-2020

[SE] the common cold

in The Citadel on 07-05-2020

Mallorie
7
Last post by Morgan

on 07-24-2020

rain rain go away {SE} {OPEN}

in The Wildwood on 08-15-2020

Oliver
16
Last post by Morgan

on 10-28-2020

The Forgotten Son Returns - OPEN

in The Citadel on 07-03-2020

Noah, Jace
11
Last post by Morgan

on 07-15-2020

An Anonymous Package

in The Citadel on 07-01-2020

NPC
2
Last post by Morgan

on 07-01-2020

[PQ] Make it again, but better

in The Citadel on 07-01-2020

Neron, Korbin, Noah, Mallorie
19
Last post by Morgan

on 07-15-2020

live with my quiet rage

in The Outskirts on 07-01-2020

Neron
29
Last post by Morgan

on 07-24-2020

Didn't think it'd be so soon

in The Arcane Academy on 06-23-2020

Korbin
10
Last post by Korbin

on 06-26-2020

Hard talks and harder choices

in The Arcane Academy on 06-20-2020

Chulane
14
Last post by Morgan

on 06-25-2020

Heavy are the Shoulders

in The Arcane Academy on 06-19-2020

Mallorie
11
Last post by Morgan

on 07-01-2020

[Mini Event] Solace from the Dark

in The Arcane Academy on 06-15-2020

Neron, Delphine, Wessex, Korbin, Kiada, Noah, Glas, Chulane, Mallorie, Tala, Hester, Rasmus
17
Last post by Noah

on 06-23-2020

Only Close My Eyes To Blink

in The Citadel on 06-14-2020

Hester
24
Last post by Morgan

on 07-01-2020

[SE] reparations

in The Citadel on 06-14-2020

N/A
1
Last post by Morgan

on 06-14-2020

all the times that I keep holding onto

in Palace on 06-12-2020

Korbin
24
Last post by Morgan

on 06-20-2020

The world's a beast of a burden

in The Arcane Academy on 06-10-2020

Neron
22
Last post by Neron

on 06-27-2020

Hungry to do it all Again

in The Citadel on 06-01-2020

Loren, Noah, Chulane, Elena
10
Last post by Morgan

on 06-16-2020

Olive Branch

in The Citadel on 05-31-2020

Loren
11
Last post by Morgan

on 06-04-2020

[Mini Event] One for all, but all for who?

in The Citadel on 05-29-2020

Court Official, Loren, Korbin, Wessex, Glas, Chulane, Neron
13
Last post by Korbin

on 05-31-2020

I need to move, I need to fight

in The Citadel on 05-28-2020

Mallorie
23
Last post by Morgan

on 06-16-2020

[Training] Purest Expression of Grief

in Palace on 05-28-2020

Chulane
15
Last post by Morgan

on 06-11-2020

the crash of an avalanche

in Kraai on 05-22-2020

Elena
14
Last post by Morgan

on 06-20-2020

Betrayal of an Oath

in Palace on 05-19-2020

Loren
13
Last post by Morgan

on 05-26-2020

I can only bear the scars

in Kraai on 05-18-2020

Weaver
13
Last post by Weaver

on 05-23-2020

I May Never Trust At All

in The Citadel on 05-17-2020

Noah
18
Last post by Noah

on 06-14-2020

[Mini Event] can we bring to fall the giants

in The Citadel on 05-17-2020

Loren, Neron, Zariah, Korbin, Kiada, Noah, Weaver, Chulane, Elena
28
Last post by Elena

on 05-22-2020

Isn't it lovely, all alone?

in Palace on 05-11-2020

Korbin
25
Last post by Korbin

on 05-28-2020

[KQ] diamond dust

in The Citadel on 05-07-2020

Court Official, Loren, Zariah, Weaver
41
Last post by Court Official

on 05-17-2020

adrift on the ice

in Tundra on 05-07-2020

Mallorie
29
Last post by Morgan

on 05-23-2020

[Training] frozen fractals all around

in Palace on 04-23-2020

Loren
16
Last post by Morgan

on 05-08-2020

[OPEN] Feel like I'm living just to stop you winning

in The Fangs on 04-22-2020

Korbin
14
Last post by Korbin

on 04-27-2020

Oh, the nice ones below

in Shrine on 04-22-2020

Random Event
10
Last post by Random Event

on 04-30-2020

Chains of Command

in Palace on 04-20-2020

Jigano
35
Last post by Jigano

on 05-14-2020

[PQ+] The omnivore's dilemma

in Whitebrim on 04-19-2020

Wessex, Loren, Neron, Zariah, Random Event
53
Last post by Random Event

on 05-26-2020

[SWE] The Festival of Lights

in Ahi Coast on 04-15-2020

Court Official, Jigano, Weaver, Remi, Korbin, Quanil, Loren, Alina, Amun, Saiden, Seren, Deimos, Sunjata, Nate, Rance, Hotaru, Ronin, Melita, Raza, Delphia, Samuel, Amalia, Oliver, Kellan, Lily, Ludo
75
Last post by Lily

on 04-29-2020

make them hear you

in Snowcloak on 04-13-2020

Wessex
17
Last post by Wessex

on 05-03-2020

[PQ] Let's get down to business

in Palace on 04-08-2020

Loren, Korbin, Weaver
20
Last post by Korbin

on 04-22-2020

breath, then stillness

in Woodland on 04-04-2020

Deimos
18
Last post by Morgan

on 04-20-2020

some questions, a couple of suggestions

in Palace on 04-03-2020

Neron
18
Last post by Neron

on 04-21-2020

[Magic Training] every second counts

in The Arcane Academy on 04-01-2020

Zariah, Evie
22
Last post by Zariah

on 04-18-2020

[SE] puddle-jumpin'

in The Stonesong on 03-30-2020

Quanil
21
Last post by Quanil

on 04-18-2020

before i got carried away

in Palace on 03-26-2020

Loren, Amalia
29
Last post by Amalia

on 04-30-2020

One Stitch at a Time [OPEN][SE]

in Snowcloak on 03-18-2020

Weaver
20
Last post by Weaver

on 04-19-2020

black and blue bird [se] [open]

in Ahi Coast on 03-12-2020

Remi
28
Last post by Morgan

on 04-18-2020

Death is moving upon my soul [Open] [SE]

in Palace on 03-07-2020

Loren
21
Last post by Morgan

on 04-04-2020

[Mini Event] rollin' bones

in Hale Ka'aila on 03-06-2020

Remi, Loren, Saiden, Ronin, Zariah, Ludo, Deimos, Amalia, Wessex, Jigano, Melita, Seiji, Maea, Sunjata, Oliver, Delphia, Quanil, Weaver, Raza, Rance, Alina, Kellan
80
Last post by Ludo

on 03-25-2020

My cathedral is the badlands

in Sea of Glass on 02-21-2020

Wessex
13
Last post by Wessex

on 04-08-2020

Throwing my hat in the ring

in Shrine on 02-21-2020

Random Event
2
Last post by Random Event

on 02-24-2020

[OPEN] A Different Kind of Sun

in Ahi Coast on 02-12-2020

Maea
19
Last post by Morgan

on 03-14-2020

[PQ] Flush Out The Rats

in Whitebrim on 01-30-2020

Loren, Zariah, Peter, Ingrid
19
Last post by Loren

on 03-07-2020

snow warning

in The Citadel on 01-28-2020

Loren
20
Last post by Morgan

on 02-14-2020

Cold Comfort

in Sea of Glass on 01-26-2020

Delphia
21
Last post by Morgan

on 03-07-2020

[Training] are you really though?

in The Citadel on 01-26-2020

Zariah
15
Last post by Zariah

on 04-01-2020

All Due Respect

in Palace on 01-26-2020

Neron
10
Last post by Neron

on 01-31-2020

Are these the men with which I am to defend Halo?

in Palace on 01-24-2020

Peter
15
Last post by Morgan

on 02-04-2020

Where I was Meant to Be [OPEN]

in The Fangs on 01-23-2020

Hotaru
13
Last post by Morgan

on 04-25-2020

0 active · 167 closed · 0 need replies · 167 total
Morgan's Forum Info
Joined:
01-23-2020
Last Visit:
02-21-2022, 09:52 PM
Total Posts:
1,025 (1.16 posts per day | 0.82 percent of total posts)
(Find All Posts)
Total Threads:
83 (0.09 threads per day | 1.18 percent of total threads)
(Find All Threads)
Time Spent Online:
1 Week, 4 Days, 3 Hours