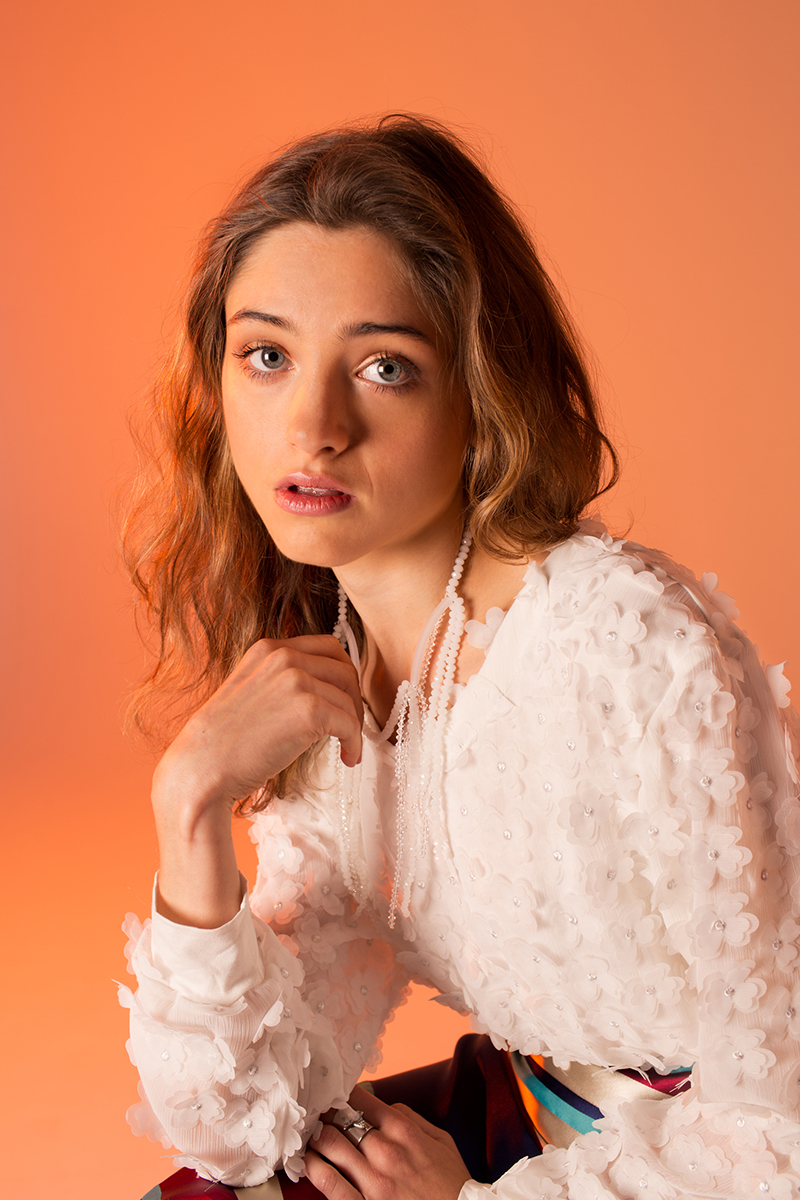 Basic Information
| | |
| --- | --- |
| Level: | 2 |
| Race: | Mermaid |
| Nationality: | Natural |
| Citizenship: | Torchline |
| Profession | Explorer |
| Primary Organisation | |
| Secondary Organisation | |
Character Information
| | | | |
| --- | --- | --- | --- |
| Face Claim: | Natalia Dyer | Strength: | 10 /30 |
| Age: | 20 (Longheat 291 PC) | Dexterity: | 13 /30 |
| Height: | 5'4 | Endurance: | 13 /30 |
| Weight: | That's rude | Luck: | 14 /30 |
| Gender: | Female | Relationship Status: | Single |
| Orientation: | ??? | Deity Alignment: | Old Gods |
Appearance
Delta has shoulder length brown hair with gray eyes and almost always a smile on her face. She seems like your average human from the waist up, but the other half of her body is a lion fish. Due to living under water, she does try to keep her hair tied up in some way, almost always intricately and with clear care taking into account. She also has taken up to wearing jewelry that she has found underwater, may it be lost from a sailor or something she created herself, she will almost always be seen wearing some kind of bracelet.
Personality
One of the most obvious things about Delta is that she is adventurous. Not one to shy away, she is constantly searching for answers to- well- everything! It doesn't really matter what it is, she is constantly trying to learn more. This means that she is an incredible listener, always ready to hear what another person has to say. Because she lives a very optimistic life, she also believes strongly in the idea of people deserving some sort of redemption and that she shouldn't judge someone based on their appearance. This also means that she tends to be very naive at times and can most likely be easily persuaded or convinced of certain ideas. She is unfortunately gullible at times and due to not knowing a whole lot about the world outside of the water, she also may believe almost anything said to her about the surface world. Still, she tries to believe that everyone deserves to speak and that any story is an opportunity to learn. Oh yeah, she's also the daughter of the leader, something she doesn't really see as a big deal or something to mention. Since that's just normal and all the merfolk know it.
History
Like any other merfolk, Delta grew up from an egg. The usual. She is just your average merperson, save for the fact that she is the daughter of the leader, Maru. Otherwise, yeah, she is totally normal! So far, Delta has met quite a few mouthbreathers! Some fun, some boring.
Other
Lion Fish
Abilities
Water manipulation: Can manipulate water. Must be within a 5ft radius, control is weak and unstable and requires concentration. Can manipulate water in glasses and puddles
Type: Light | Rank: Basic

---
Citizenship Ability
Torchline: Torchline has taught you to survive her weather and her terrain. Once per PQ/PQ+/KQ/Drop, you can 'shrug off' half the damage from ONE non-lethal attack. (In order to use this ability, you must put a clear note in the bottom of your post immediately following the attack you want to 'shrug off').
---
Items
---
Companion
CLIFFORD - Regular - Hel
Delta's Threadlog
7 active · 33 closed · 5 need replies · 40 total
Thread
Participants
Posts
Last Post
[PQ] sometimes one bite is more than enough

in Haulani on 11-25-2020

Saiden, Milo, Raza
6
Last post by Milo

on 11-26-2020

material world

in Shrine on 11-12-2020

Random Event
2
Last post by Random Event

on 11-13-2020

[PQ+] All the Sinners & Saints move in the same direction

in Arclight Ocean on 11-09-2020

Random Event, Sunjata, Olavi, Nerissa
29
Last post by Olavi

on 11-26-2020

imagining a life along the shore

in Ahi Coast on 11-06-2020

Tenor
10
Last post by Delta

on 11-26-2020

big blue world (open)

in Haulani on 11-04-2020

Raza
5
Last post by Delta

on 11-26-2020

it's okay to say

in Kaiholo Port on 11-04-2020

Finn
6
Last post by Finn

on 11-26-2020

(Open / SE) A Colorful Stone For Your Thoughts?

in Miana Pool on 11-01-2020

Neos
9
Last post by Neos

on 11-19-2020

work of art

in Shrine on 10-27-2020

Random Event
3
Last post by Delta

on 11-04-2020

[SE] As If I Owed You Something

in Ahi Coast on 09-30-2020

Nate
13
Last post by Nate

on 11-07-2020

[se] resounding with waves

in Haulani on 07-13-2020

Deimos
11
Last post by Deimos

on 09-03-2020

paint me with the colors of my sins

in Underwater City on 07-11-2020

Amalia
12
Last post by Amalia

on 09-04-2020

{SE} litterers are dumb and stupid (open)

in Ahi Coast on 07-03-2020

Raza
10
Last post by Raza

on 08-14-2020

im having a good (bad) time

in The Maw on 07-02-2020

Olavi
16
Last post by Olavi

on 08-04-2020

raindrops keep falling on my head

in The Rainbow Road on 07-02-2020

Nerissa
12
Last post by Nerissa

on 08-14-2020

unlucky charms

in Underwater City on 06-09-2020

Maru
9
Last post by Delta

on 07-16-2020

we're gonna need a bigger boat

in Kuali'i Isles on 06-02-2020

Elias
12
Last post by Elias

on 08-27-2020

{SE}{O} Waves Will Eat The World

in Arclight Ocean on 05-28-2020

Nate
13
Last post by Nate

on 07-03-2020

something brewing within your skin (open)

in Ahi Coast on 05-26-2020

Amun
11
Last post by Delta

on 06-10-2020

trying and trying and trying

in Shrine on 05-25-2020

Random Event
7
Last post by Delta

on 05-26-2020

thingamabobs

in Kaiholo Port on 05-17-2020

Jack
13
Last post by Delta

on 06-11-2020

[RQ] but a grin without a cat?

in Ahi Coast on 05-15-2020

Remi, Seren, Maru, Caspian
15
Last post by Seren

on 07-02-2020

that's how you know

in Kuali'i Isles on 05-14-2020

Raza
11
Last post by Delta

on 07-03-2020

[Mini Event] a hui hou

in Ahi Coast on 05-12-2020

Eloise, Saiden, Ronin, Samuel, Melita, Lily, Nate, Sunjata, James, Jack, Raza, Zephyr
28
Last post by Nate

on 05-25-2020

fluffy puffy marshmallows

in Kuali'i Isles on 05-08-2020

Zephyr
12
Last post by Zephyr

on 07-02-2020

{SE} seeking animals

in Ahi Coast on 05-10-2020

Remi
24
Last post by Remi

on 06-14-2020

clam clam clam clam clam clam clam

in Kaiholo Port on 05-06-2020

Clemente
7
Last post by Delta

on 06-11-2020

{SE} toss of faith [open]

in Kaiholo Port on 05-02-2020

Letha
3
Last post by Delta

on 05-07-2020

(SE) in too deep to go back again

in Ahi Coast on 05-02-2020

Sunjata
26
Last post by Delta

on 05-31-2020

Diamond in the rough (open)

in Ahi Coast on 05-01-2020

Jigano
38
Last post by Jigano

on 07-01-2020

hold your breath

in Shrine on 05-01-2020

Random Event
7
Last post by Delta

on 05-17-2020

how far ill go (open)

in Kuali'i Isles on 04-24-2020

Quanil
17
Last post by Delta

on 06-01-2020

baby shark doo doo

in The Maw on 04-24-2020

Alina
17
Last post by Delta

on 05-04-2020

the comic sans of humans

in Hale Ka'aila on 04-20-2020

James
20
Last post by Delta

on 05-11-2020

in an octopus's garden in the shade

in Underwater City on 04-17-2020

Wessex, Maru
11
Last post by Maru

on 06-11-2020

beware of the dock

in Kaiholo Port on 04-15-2020

Ronin, Seren
30
Last post by Seren

on 05-08-2020

a world that is dark and cold

in Underwater City on 04-09-2020

Maru
8
Last post by Maru

on 05-08-2020

just keep swimming

in Shrine on 04-05-2020

Random Event
3
Last post by Delta

on 04-05-2020

what have they got

in Arclight Ocean on 04-03-2020

Saiden
40
Last post by Delta

on 06-12-2020

drifting amidst our dreams

in Underwater City on 04-02-2020

Maru
11
Last post by Maru

on 04-09-2020

people watching (OPEN)

in Ahi Coast on 04-01-2020

Loren
41
Last post by Delta

on 06-12-2020

7 active · 33 closed · 5 need replies · 40 total
Delta's Forum Info
Joined:
04-01-2020
Last Visit:

18 minutes ago

Total Posts:
262 (1.09 posts per day | 0.32 percent of total posts)
(Find All Posts)
Total Threads:
26 (0.11 threads per day | 0.57 percent of total threads)
(Find All Threads)
Time Spent Online:
1 Week, 3 Days, 12 Hours