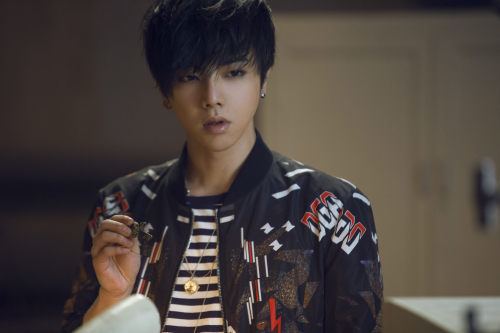 SASCHA
---
Sascha groaned softly where he laid on something soft and warm and he felt the suns rays prickle the light skin on his neck. He felt dizzy and could not recall where he was, what had he been doing? Wait.. where had he even been? He groaned again and wrinkled his still closed eyes a bit. What was this smell? It was not a scent he has smelled before and it agitated the headache that pounded like a heartbeat inside of his skull, hell everything seamed to own it's very own heartbeat. No.. he couldn't just lay around here even though everything in him screamed to just fall back out of consciousness, with that thought in his head he stretched out his shaking hands so they existed on each side of his waist before he just as shaky started to push himself upwards. He almost wanted to throw up and it took all his power to force open his eyes to see that thick wall of tired blur. Slowly he blinked his vision into shape as his feet came into contact with the ground and wobbly forced him up into a standing position. He raised his hand over his eyes, it was to bright right now and watched the scenery create itself before those worn out eyes.
Everything came into focus but he had no idea what it was he saw. This.. was not China.. where the fuck was he?! He turned around so quick that his dizziness almost made him fall to his death again and it took an enormous effort to stay upright.
"Dàodǐ shì zěnme huí shì?"
He muttered as the dread spread through his entire being. Yeah.. what in hell was happening?! His stump growled at him which made him also consider how long it had been since he last ate, everything was just so very wrong right about now.
He was dressed in the typical farmer fashion popular in the year 1909 in china. Black in color and still muddy from his trip through the chinese forest earlier. Well.. rather; or once in time? He had no idea how long he had been at this place and he also had no idea what to do now. The scenery scared him, it was like nothing he seen before. The trees looked different, the water looked different, the plants looked different.. Heck it all looked different. What country was he in and how the hell would he get back home?
A sudden noise made a chill crawl up his spine and he became stiff as a plank. What was lurking in this place? What was he supposed to do!? As an idiot he decided to ASK the environment, why? He had no idea.
"Shéi zài nàlǐ?"
He regretted his decision as soon as the words fell out from him. This was the end.. he will get murdered in a different land, just like that!