Elyna Ariez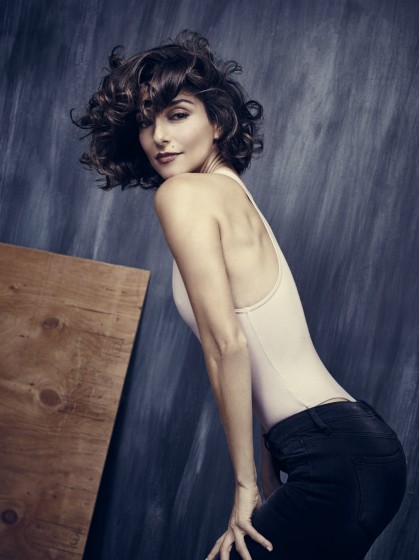 Basic Information
| | |
| --- | --- |
| Level: | 4 |
| Race: | Ascended |
| Nationality: | Outlander |
| Citizenship: | |
| Profession | Soldier |
| Primary Organisation | |
| Secondary Organisation | |
Character Information
| | | | |
| --- | --- | --- | --- |
| Face Claim: | Necar Zadegan | Strength: | 12 /30 |
| Age: | 35 (Leafchange 275 PC) | Dexterity: | 18 /30 |
| Height: | 5' 9'' | Endurance: | 15 /30 |
| Weight: | 125 | Luck: | 12 /30 |
| Gender: | Woman | Relationship Status: | Single |
| Orientation: | Asexual | Deity Alignment: | |
Appearance
For a soldier, Elyna is quite beautiful; perhaps it's because she prefers to keep her enemies at a distance. She has a thin face, with strikingly bold features, glowing skin, haunting brown eyes, and luxuriously dark hair that she usually keeps relatively short. Though she's a trained warrior and has the muscles to prove it, her frame and build are deceptively thin looking, disguising the strength she possesses. Her limbs are long and graceful, though instead of looking like a dancer, Elyna is more likely to put people in mind of some sort of predatory animal. This is especially true when she springs into an attack or a defense.

While she rarely smiles, in public, at least, when she does it transforms her entire face into one of radiant joy. Still, her typical expression is a dour frown or more usually, a complete lack of expression. Her clothes are usually totally utilitarian; she's a fighter, after all, not some pampered lady who would faint at the sight of blood. She prefers to wear clothes that protect her and she can freely move in. Most times, Elyna can be seen with her glaive strapped to her back or held confidently in her hands.
Personality
Elyna works harder, not smarter. While she a fierce warrior—and constantly drives herself to new heights—she possesses more cunning than intelligence. While she protects the people she has sworn to guard, she has little patience for either them or for their schemes. Indeed, she'd much rather spend her free time alone or training than she would socializing. She can be quite abrasive and makes no secret of that fact. While she can usually keep herself physically in check, she sees absolutely no need to hold her tongue when confronted with evidence of stupidity.

In addition, she harbors a burning resentment for men; they have wronged her and her sisters and while she doesn't know the word, Elyna is a feminist. Unfortunately, she's hardly a leader or an activist. Indeed, she's a soldier more than a foot-soldier fighting the good fight. It takes a lot for the other gender to break through her steely and spiky facade and for her to trust them to ever do what is right. Usually, she's proven right in her distrust.
History
Elyna was born a bastard, and her family never forgave her for it. Her father Kerter Lecie was a shapechanger soldier in the Storm Army with a family back home. What that family didn't know was that Kerter liked to sleep around while he was away. Unfortunately, one of those couplings produced an offspring. The mother, a fellow original commoner named Clia Endro, had no wish to raise a child out of wedlock, so once Elyna had been weaned off her mother's milk, Clia abandoned Elyna with Kerter and got transferred to another unit. Suddenly burdened with a newborn, Kerter applied for leave to deal with the situation.

Needless to say, Kerter's wife, Entona, an original, was displeased with these events. Still, Kerter forced his wife to take Elyna in and raise her. Unfortunately, the reminder of Kerter's infidelity was too much for Entona, who took it out on the innocent Elyna. Even worse, Elyna's stepmother instructed her three sons, Elyna's half-brothers Laree, Menta, and Neru to torment the poor girl as well. What Elyna can remember of her childhood is unhappy — she blocked out the worst of it — but she did learn how to escape from danger when she could and fight when she couldn't. She lost, of course, but each time made her a little tougher and a little better.

Entona was a laundress, and as soon as Elyna was old enough, she was forced to work, scrubbing for hours at a time until her hands bled and stung from the soap and her back and muscles ached. It was a tough life, especially for a young girl, and eventually, at the age of just thirteen Elyna snapped, though it happened in secret. At night, she began to sneak out, searching for salvation until one day she found it in an unlikely location: at a local training grounds with a young man named Lancel Olidair. She literally ran into him as he was in the middle of an exercise; he'd stayed late to master it, as he was training to be in the Army one day and wanted to be an officer. Once she'd explained who she was and what she was looking for, he reluctantly agreed to show her a few tips. She returned the next night as promised, and the night after that, and ever night she could, and he was finally won over by her determination.

Lancel, a scion of a local blueblood family taught her unarmed combat as well as the weapons he was most skilled with, which happened to be polearms. He personally favored the simple spear, but she was drawn to a strange weapon, the naginata. They spent many nights together, working on Elyna's abilities and she grew to idolize him. Then, one day, when she was sixteen, it went horribly wrong. It had started innocently enough — Lancel had brought a bottle of something alcoholic with him and had invited her to stay after training for a few drinks— but where the night ended, Elyna refused to talk about. All people knew was that Lancel was found the next morning, beaten up, and when he was able to talk, he'd blamed for his injuries.

The trouble this brought upon the Lecie's was immediate and absolute, since the word of a blueblood trumped that of any commoner. Kerter was recalled from the war; Entona lost her job; and criminal charges were even being considered. Whether or not those went through, plans were immediately discussed to marry Elyna off to whoever would take her, even with the trouble looming over her. Kerter, a father she barely knew, turned out to be as bad as the rest of Elyna's family. Scared, isolated, and in trouble on too many fronts, Elyna did what she'd done so many times before; fled in the middle of the night. Only this time, she didn't go back the next morning.

Not having anywhere else to turn, Elyna desperately decided to enroll in the Storm Army, using the fake surname Ariez. Once she'd demonstrated her skills, she'd been accepted, though given the state of the war, they were taking basically anyone who was able bodied and not looking too closely at them. Elyna took care to be an exemplary and scandal-free soldier, not wanting anyone to be asking too many questions about her for fear they'd dredge up her past. Though she didn't exactly rise up through the ranks, she made it through several tough battles during her time and people took notice. Perhaps that was why, when she'd heard of the need for soldiers to explore a brave new world and had applied, she'd been accepted to go through with the first wave.

In Northaven, as it eventually became known, Elyna continued to serve diligently, though she remained closed off, even to her fellow Guards. After trying and failing to get her to open up and perhaps even take a lover or a husband, people generally left her alone; what they didn't know was that Elyna had sworn off making attachments in general and getting close to men specifically. That was why, when the order was given from above that people needed to start getting married and produce children and eyes had pressure had started to come Elyna's way, she made a decision.

At that point, she was 32, had been in Northaven for five years, and had shown no signs of complying. The rumors were starting to turn ugly. One particularly nasty comment made her conclude there was only one option before her: Elyna planned to seek out Mihka Darkheart , her Lieutenant, and asked to be turned. Around the same time, however, Northaven was thrown into upheaval by an attack that destroyed the very walls around them and the decision to create a jungle outpost. Elyna had decided to delay her transformation in order to not be down a soldier during this most trying of times, but the day had finally arrived. Now Elyna, 33, was ready for her own new adventure.
Other
Abilities
Magic: 20% Sunlight Resistance
Type: Light | Rank: Basic

---
Items
Type: Dark
Ring of Fire Protection | Elyna has acquired a ring that makes her temporarily immune to fire. The enchantment is activated by twisting the ring twice around her finger. Once activated, the protection lasts for two posts before the enchantment is spent. It takes a full day to recharge. As long as the enchantment is active, Elyna also gains +2 to endurance.
---
Companion
Elyna's Threadlog
0 active · 6 closed · 0 need replies · 6 total
Thread
Participants
Posts
Last Post
[SWE] The Festival of Lights

in The Outskirts on 12-01-2018

Court Official, Remi, Wessex, Vervain, Amalia, Rexanna, Ronin, Bastien, Deimos, Desmond, Asavvi, Devrum, Archebold, Jorseval, Alistair, Tae, Edrei, Celosia, Ashetta, Kalt, Sarya, Rory, Koel, Loren, Ludo
66
Last post by Rory

on 01-07-2019

Not So Simply Divine (Open)

in Shrine on 11-28-2018

Safrin
14
Last post by Safrin

on 11-30-2018

[Mini Event] Strangers in a Strange Land

in Temple on 11-21-2018

Ronin, Edrei, Remi, Tristan, Deimos, Rexanna, Tae, Grusha, Isla, Vervain, Wessex, Koel
23
Last post by Wessex

on 11-30-2018

[PQ] I Need A Hero

in Archives on 11-05-2018

Random Event, Edrei, Isla, Roana
23
Last post by Random Event

on 11-24-2018

Lost in the shuffle [OPEN]

in The Outskirts on 11-05-2018

Remi, Random Event, Rory
20
Last post by Remi

on 12-17-2018

[SWE] Where Angels Fear to Tread

in Archives on 11-04-2018

Court Official, Edrei, Ronin, Remi, Isla, Vervain, Koel, Loren, Mimora, Moses-Joel, Feirsanbrus, Amaya, Celosia, Ashetta, Delphine, Kalt, Enigma, Zariah, Roana, Phoebe, Vanya, Beatrix, Edera, Devrum, Dodge, Alistair, Archebold, Sarya
71
Last post by Sarya

on 11-22-2018

0 active · 6 closed · 0 need replies · 6 total
Elyna's Forum Info
Joined:
10-30-2018
Last Visit:
04-20-2020, 02:22 PM
Total Posts:
215 (0.35 posts per day | 0.32 percent of total posts)
(Find All Posts)
Total Threads:
1 (0 threads per day | 0.03 percent of total threads)
(Find All Threads)
Time Spent Online:
8 Hours, 12 Minutes, 9 Seconds