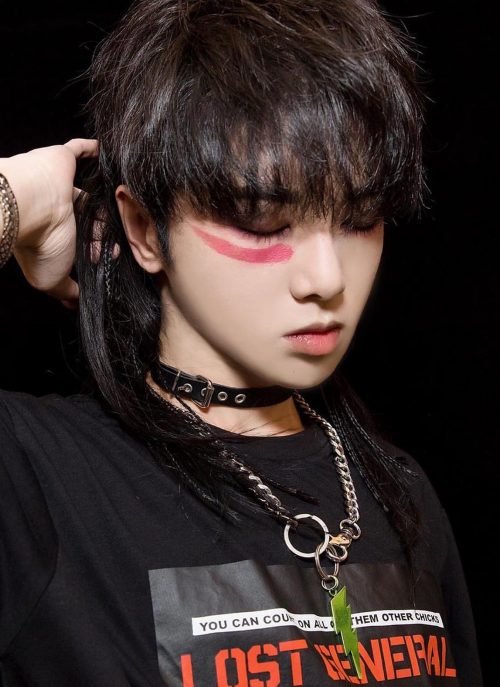 Basic Information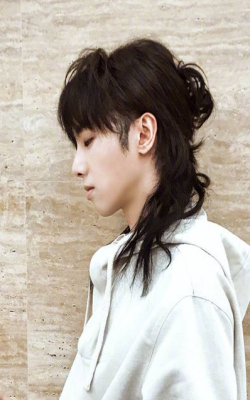 | | |
| --- | --- |
| Level: | 2 |
| Race: | Abandoned |
| Nationality: | Outlander |
| Citizenship: | Hollowed Grounds |
| Profession | Carpenter |
| Primary Organisation | ☆ Artisan's Guild |
| Secondary Organisation | |
Character Information
| | | | |
| --- | --- | --- | --- |
| Face Claim: | Hua Chenyu | Strength: | 5 /30 |
| Age: | 22 (Flowerbirth 289 PC) | Dexterity: | 10 /30 |
| Height: | 175 cm (5'7) | Endurance: | 15 /30 |
| Weight: | 60 kg (132 lbs) | Luck: | 17 /30 |
| Gender: | Male | Relationship Status: | Single |
| Orientation: | Homosexual | Deity Alignment: | Vi |
Appearance
He is a young man that normally either look a bit confused or just generally happy. There are a very few times he actually feels anything else which might not make his looks so odd to process. His hair is so dark brown that it can be taken as black and the same thing goes for his peircing pair eyes which grows stronger next to his pale skin. He does not pocess a very strong body. He barely have much muscelature at all and it is totally justifiable to jump to conclusion over the strenght of this mans body, but he is however very quick on his feet which have saved him from MANY bad experiences in the past.

He dresses mostly in black or white in a pretty simple fashion with a simple chain or such around his neck. Shoes are the style of comfort like a pair os sneakers or maybe a pair of boots. Fingerless gloves seams to also be a favorite but other then that his style are not much more complicated.
Personality
He is a very intelligent young man even though he pretends he is not mostly to make things more interesting. Let's face it; Nobody likes a know-it-all so it is not a surprise if he looks like a living questionmark even on subjects he already know the answer to. Everything between facts, relationships, fighting and all sorts in between; Just look confused and you are safe from getting pinned as a know-it-all, right?

Even though ihe is a VERY social creature he still can have moments of extreme shyness depending on the situation at hand, well.. at least rather easily embaressed. For instance if some good looking man starts to flirt with him all of a sudden then his gaze tend to meet the ground as he turns red like a lobster in his face and makes him mumble an embaressed thank you. This normally follows with him trying to stear the conversation to other directions 90% of the time. If he is REALLY brave that day he might flirt back but that is also a very rare occurrence. He can deal with compliments but if it turns more then that he tends to get embarrassed.

He can however be very cocky with fast comebacks of both silly and serious natures if someone tries to be nasty towards him. So if someone would to give him a racial or inappropriate comment he replies quickly in either a silly or stern way that normally ends the conversation right there. Normally it is something silly or dorky he says, lets be honest here. He is rarely evil but tend to shoot back comments in a way i feels contains to the situation.

Something worth mentioning is that he is both a bit naive and also very musically orientated. Naive in that sence he have this romantic notion that people are generally good and wants to treat other people well. He rarely think as he helps someone injured that it could be the last thing he does and that there are many people far from good in this world. He is litterally a person that wants EVERYONE healthy and happy. No thoughts whatsoever that he might getting used only for their own purposes and that they ight stab him in the back as soon as they are able to. Music is something that lives within him to as stated! He is a damn good singer and can even play well at a few different instruments, all self thought! The main instrument he plays REALLY good is the violin which he had on him as he came through the portal.
History
Sascha was born in Zhouzhuang, China the year 1889. His family was of a higher social status which meant he had access to very good education for the time and also lived in luxury back then. Amongst other things he was one of few in his town that had the luck to learn a foreign language which happened to be English. He also got gifts from that part of the world which one of his most prized possession was the violin. His strongest points in his education was Language, Violin and crafting of different kinds while his weaker points where things like combat and matrial arts. He became quite adept in the craft of archery though which was one of the things he did to relax, But archery is one of few things he can do in the fighting genre. His strong points where the creative and intellectual subjects of his time.


His father wanted him to become way better in at least matrial arts though and follow the career as a soilder or things of similar value. This made the life for Sascha pretty difficult cause as staed his fightingskills where, to be generous, very poor. When he turned 16 though he had no choice; his father sent him away to become a archer since that was the only thing he had proven worthy enough in. Thats how it worked back then in china; the perents choose what their kids should persue so off he went to train.


He did extremely well in archery but extremely bad in the exorcise that followed it all. There was no such thing to just only shoot arrows of course and this was very painful for him to to. Train til he bled, up before sunrise and went to sleep late at night. This was proven to be to much for him so what did he do? He did the most unhonorable thing a man of thoose times could do; he ran away from it all. Ofcourse that meant as well that he was not welcome back home because of the dishonor he put his family through. So all that life of luxuary went to scraping by in poverty but he really didn't mind it as much as one would have thought. He spent the mornings fishing up his meal of the day, went back to woodwork and music and lived from whatever that could bring him for the day.


Then a short while after he had turned 20 years of age he was out in the woods to chop down some more wood to make a order happen when he saw something that stole his attention. Something was admitting a soft light from inside a cave opening. He would have missed the cave completely if it wasn't for that light fluttering out between a thick haul of branches. After some effort he managed to slither in behind thoose thick branches to enter the slim cave opening that laid there. It was a tight squeeze to get into that cave and as he did; all went dark.. He had passed out. As he woke up he had no idea where he was, all was completely different and there was no cave to be seen. Where was he?
Other
- Have a milder form of asthma.
- Extremly artisticly talented.

Abilities
Base Healing: Can heal 10 pts worth of minor wounds per post
Type: Light | Rank: Basic

Base Summoning : Can summon 1 small animal (house-cat sized or smaller)
Type: Light | Rank: Basic

---
Items
---
Companion
Sascha's Threadlog
2 active · 19 closed · 0 need replies · 21 total
Thread
Participants
Posts
Last Post
under the open sky, oh my, baby I'm trying (open)

in Kuali'i Isles on 02-20-2020

Loren
15
Last post by Loren

on 02-28-2020

Bobbing in to deep of waters.

in Kaiholo Port on 02-18-2020

Amun
22
Last post by Amun

on 02-28-2020

What Dreams May Come (Open)

in Woodland on 02-05-2020

Rillian
10
Last post by Sascha

on 02-18-2020

[season event] of the wind and the water

in Mathair on 01-20-2020

Melita, Libbs
18
Last post by Sascha

on 02-20-2020

The presented gift

in Military Barracks on 01-14-2020

Deimos
30
Last post by Deimos

on 02-25-2020

[se] that's not how tea works

in The Settlement on 01-09-2020

Libbs
18
Last post by Sascha

on 02-06-2020

Such a lonesome start..

in Domiciles on 01-07-2020

Weaver
28
Last post by Weaver

on 02-22-2020

splintered bone

in Monster Hunters Guild on 10-17-2019

Deimos
7
Last post by Deimos

on 10-19-2019

What The Cat Dragged In

in Rathskeller on 08-24-2019

Annabelle
3
Last post by Annabelle

on 08-24-2019

the silent stars go by

in Temple on 08-14-2019

Ronin
5
Last post by Ronin

on 08-25-2019

Run!

in Woodland on 07-09-2019

Kheelan
5
Last post by Sascha

on 07-14-2019

You are Remi right..?

in Artisan's Guild on 07-09-2019

Remi
10
Last post by Remi

on 07-11-2019

[Training] Bury my bones when the glory is gone

in Domiciles on 07-05-2019

Deimos
21
Last post by Deimos

on 08-24-2019

[Mini Event] Greet Your Queen

in Temple on 07-05-2019

Zariah, Edrei, Peter, Rexanna, Emmett, Bastien, Deimos, Amalia, Ronin, Jigano, NPC, Melinoë, Kiada, Remi, Melita, Eli, Phoebe, Roana, Are, Niambh, Rory
47
Last post by Zariah

on 07-12-2019

Rustling of trees and music in the air (open)

in Oasis on 07-02-2019

Kheelan, Niambh
6
Last post by Kheelan

on 07-10-2019

[PQ] From the Ashes, part 2

in Atheneum on 06-27-2019

Rory, Amalia, Jigano, Melita
27
Last post by Jigano

on 07-15-2019

OPEN | Magical Mishaps

in The Spire on 06-20-2019

Arick
14
Last post by Sascha

on 06-26-2019

A Formal Army for the Birth of a Nation

in Temple on 06-18-2019

Remi, Ronin, Rory, NPC, Deimos, Amalia, Bastien, Melita, Lucas, Peter, Adam, Are, Nate, Niambh, Arick, Eli, Vynter
36
Last post by Nate

on 07-05-2019

Choose Wisely

in The Settlement on 06-14-2019

Zariah
11
Last post by Zariah

on 06-16-2019

On the Rocks

in Rathskeller on 06-11-2019

Jigano
23
Last post by Jigano

on 06-26-2019

Death becomes me..

in Glade on 06-11-2019

Are
20
Last post by Are

on 06-26-2019

2 active · 19 closed · 0 need replies · 21 total
Sascha's Forum Info
Joined:
06-10-2019
Last Visit:
04-17-2020, 03:19 PM
Total Posts:
135 (0.34 posts per day | 0.2 percent of total posts)
(Find All Posts)
Total Threads:
6 (0.02 threads per day | 0.16 percent of total threads)
(Find All Threads)
Time Spent Online:
1 Day, 11 Hours, 47 Minutes